Appraising Harvard Redux
By Bill Larson, Pala International
In the summer of 2013, Bill Larson was asked to appraise the gemstone collection of the Mineralogical and Geological Museum at Harvard University. (See "How I Spent My Summer Vacation" on Palagems.com.) In 2015, Bill was asked to return and do the same for the mineral collection.
This spring I received an email from Dr. Raquel Alonso-Perez, Curator of the Mineralogical and Geological Museum, inviting me to visit Harvard during the first week of August in order to appraise their finer mineral specimens for the museum's usage. We decided on a valuation of roughly $5000.00 per specimen to qualify for appraisal, as their collection is rather extensive. And I was asked to assess the complete collection, i.e., the specimens on display, the duplicates underneath in drawers, the better study specimens, the vault, and the bank lock-box collections.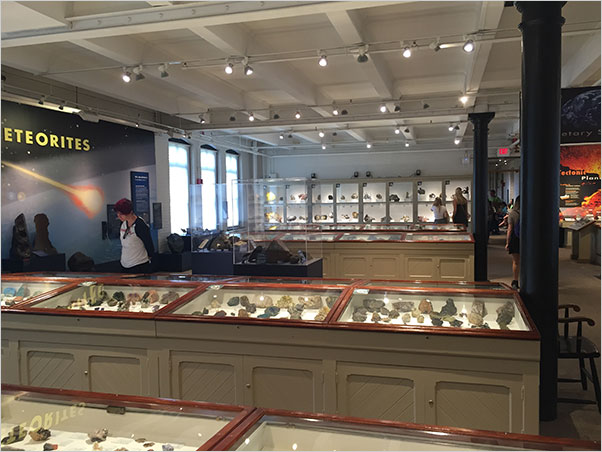 Each of the display cases in the museum at Harvard sits atop cabinets filled with drawers of duplicates and more. (Photo: Bill Larson)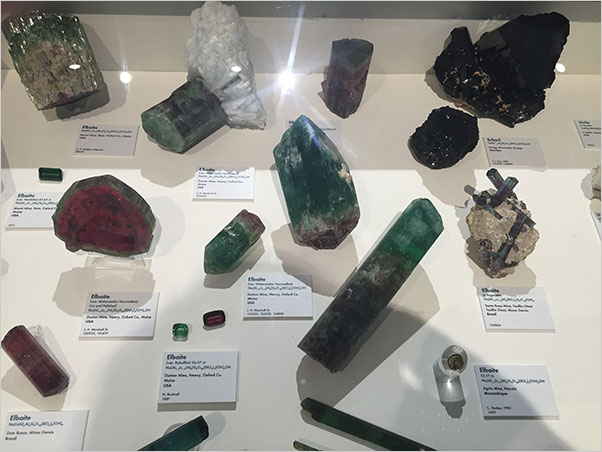 from around the world, including nearby Maine. (Photo: Bill Larson)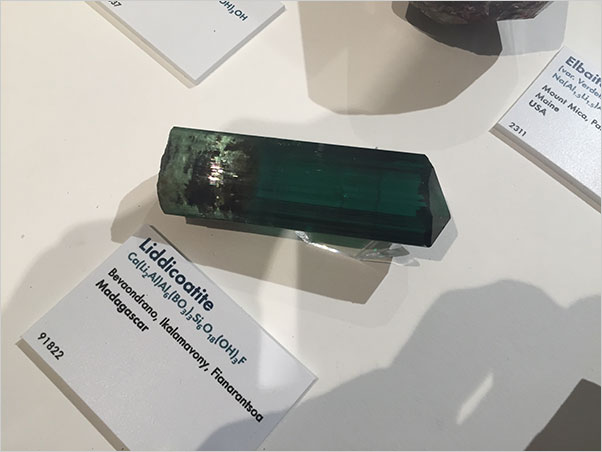 A close-up of one of the tourmaline specimens from the above display case, showing off its gem quality. This is one of seven famous specimens from Madagascar's Bevaondrano pegmatite; four are in France and two more are held by the Smithsonian. (Photo: Bill Larson)
Any avid mineral enthusiast will realize that the opportunity to work with these pieces is an amazing experience and an honor. For instance, going into the project I knew that, not only would I get to hold the great Ground Hog Mine gold wire, but I would be refreshing and expanding my own knowledge on rare and classic localities.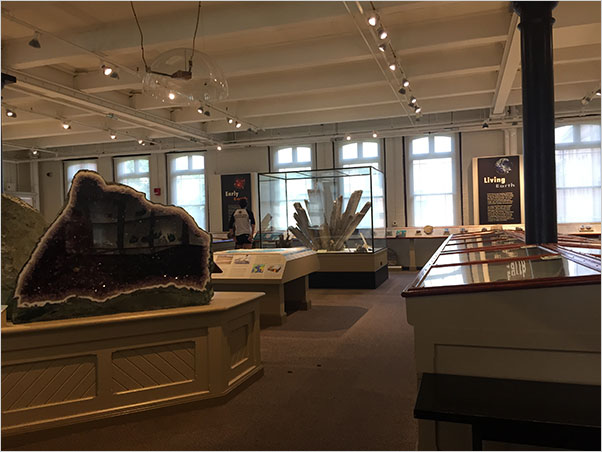 Specimens large and small are protected by a film of fused silica. (Photo: Bill Larson)
A. C. Burrage was bequeathed to Harvard in 1947. His most famous acquisition was the gold collection of Georges de la Bouglise, as discussed below. In addition to gold, Burrage contributed azurites and malachites from Bisbee, Arizona to the Harvard museum. (Photo: Bill Larson)
The collection of
Here is Harvard University's own description of its collections:
One of the famous strengths of the museum is its emphasis on the minerals of New England. Collecting and curating minerals from the local area is a long-standing tradition of the museum that has resulted in a comprehensive New England collection of unparalleled quality. […] Other strengths of the collection include minerals from the zinc mines in Franklin, New Jersey (4,000 specimens), from the copper mines of Arizona (1,400 specimens), and from Tsumeb, Namibia (900 specimens). The museum is additionally world-renowned for its gold collection of over 1,600 samples. Of all the mineral species in the collection, gold is the most represented.
Hans J. Karabacek, whose famous Maine apatites are shown above, was a connoisseur, collecting less than five thousand specimens in fifty years. Harvard acquired much of the collection following Karabacek's death in 1963. (Photo: Bill Larson)
So I cleared my schedule the first week of August. This worked well so I could also visit the Springfield show [East Coast Gem, Mineral & Fossil Show, West Springfield, Mass.] once again on Friday, August 7 with the Harvard team (see report below).
Harvard has a great group and I have them do the hard work of identifying the specimen as to museum number and label information. The team consists of Dr. Alonso-Perez, Tracy Warmington, Theresa Smith, and Kevin Czaja. Raquel was teaching a summer class, so for most of the time the rest of her team were going to be helping me. I had also heard about an enthusiastic new mineral photographer, Ben DeCamp, and I would get to meet him on Wednesday.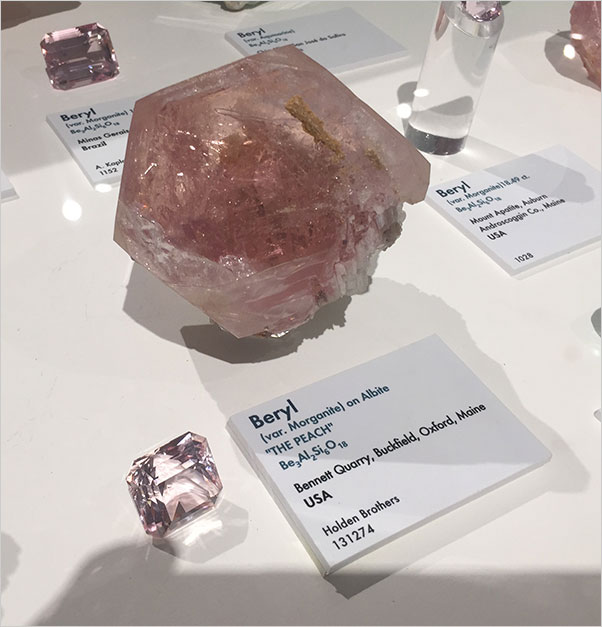 A Collector's Guide to Maine Mineral Localities, by W. B. Thompson, D. L. Joyner, R. G. Woodman, and V. T. King, available online. (Photo: Bill Larson)
This specimen was found in 1989, according to a chapter on the Bennett Quarry in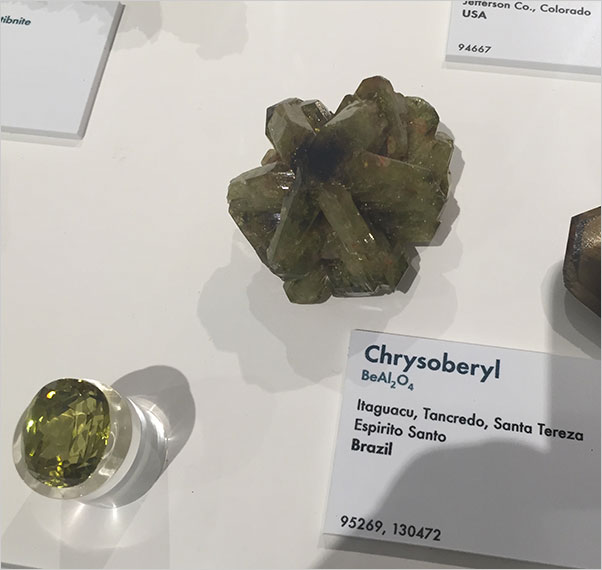 Russian Alexandrites, which was reviewed by Lisbet Thoresen in our pages. (Photo: Bill Larson)
A nicely formed sixling paired with a faceted example. For discussion of the relationship between chrysoberyl and alexandrite see Karl Schmetzer's 2011 monograph,
Monday and Tuesday we concentrated on the displayed specimens—often opening the cases with the antique, unique key to examine pieces. As mentioned above, my threshold above which I would appraise a given specimen was a top mineral dealer retail evaluation of $5000.00. We covered most of the displayed specimens within these first two days.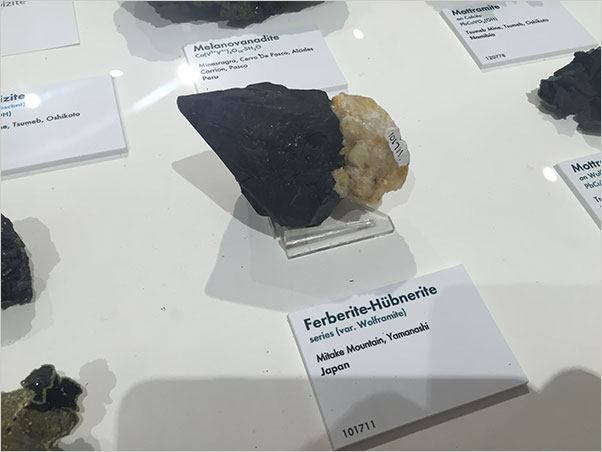 This specimen comes from the same prefecture that contains, partially Mount Fuji. (Photo: Bill Larson)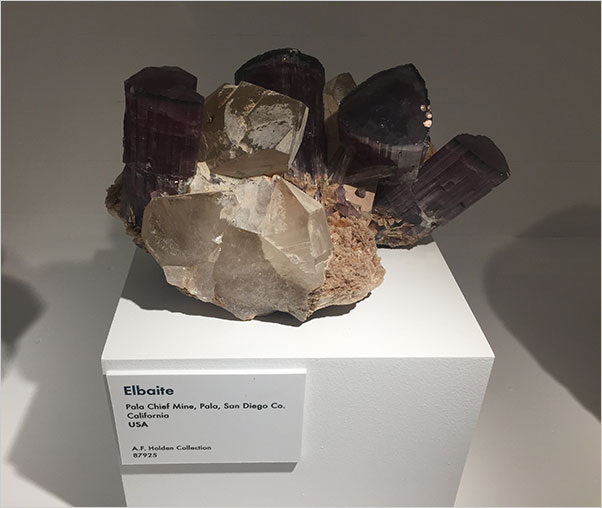 Albert F. Holden (1863–1913), who gifted his six thousand specimens to Harvard along with an endowment that supports the museum to this day. Holden's mother helped found the Western Reserve School of Design for Women, now the Cleveland Institute of Art. His father, a silver miner, once owned Cleveland's Plain Dealer newspaper. Albert Holden received his degree in Mining Engineering from Harvard. (Photo: Bill Larson)
This classic tourmaline comes from the collection of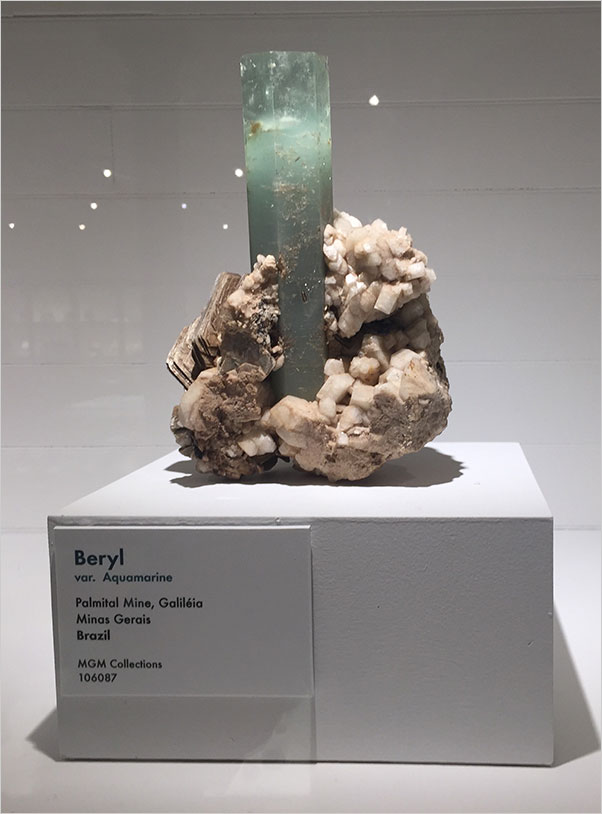 The water in this beryl seems to churn down below, clearing up above. (Photo: Bill Larson)
Raquel said I should also select six to eight aesthetic candidates for Ben's photo session on Wednesday, so I came in early that day to make my choices. He had indicated he'd like to stick with miniature size, so that was relatively easy to accommodate. I found several lovely candidates in just a couple of displays, giving the numbers to Theresa. One very nice pyrite—to me, anyway—from a rare Virginia mine was questioned with a rather disparaging remark, "Why are you photographing that?" And of course this is what's fun: many things photograph better than they look to the eye. Orientation is also important.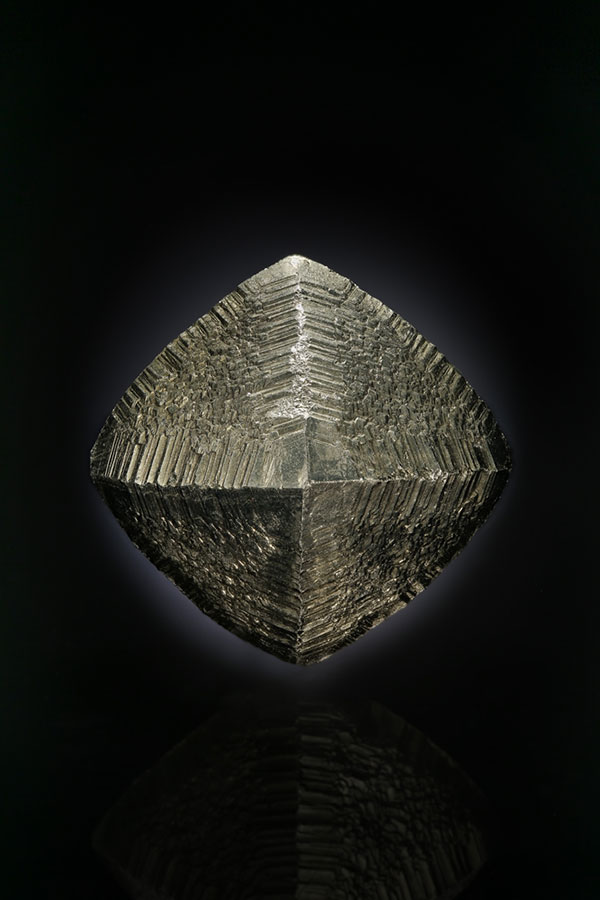 Bill Larson selected a humble pyrite to be given the star treatment by photographer Ben DeCamp. The results trumped the skeptics. (Photo: Ben DeCamp)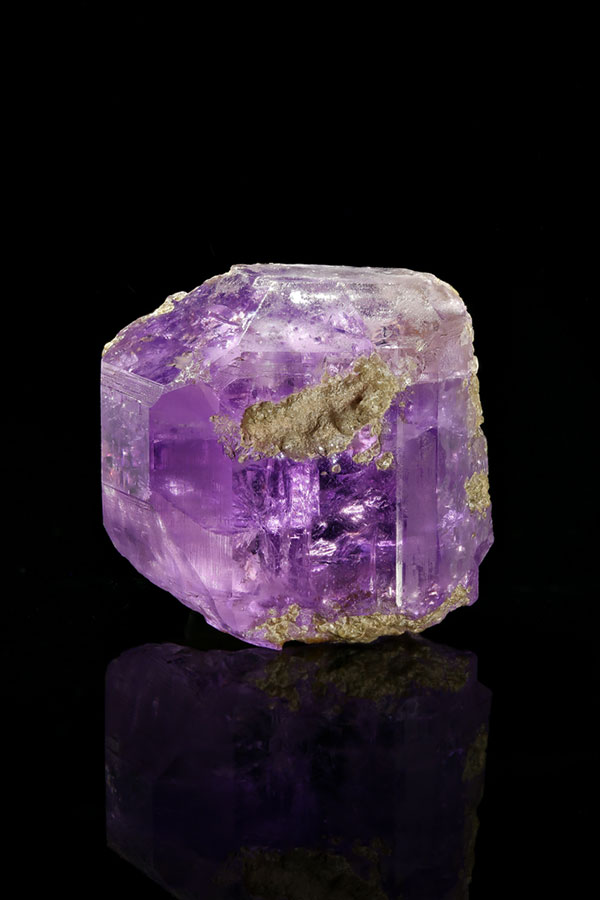 from the Pulsifer Quarry, Androscoggin Co., Maine. (Photo: Ben DeCamp)
from Germany. (Photo: Ben DeCamp)
One of nine hundred specimens in the Harvard collection from Tsumeb, Namibia. (Photo: Ben DeCamp)
While Ben got set up, Theresa and I went to finish looking through the drawers in the museum gallery. One never knows who's going to visit a museum and as we opened the tourmaline drawer, I heard a familiar voice. "Hey, Larcy. What are you doing?" Dona and Wayne Leicht had come to see the minerals on their way to the Springfield show. We talked for a few minutes before they continued looking at the collection. Theresa and I finished the drawers and then moved after lunch into the heart of the great pieces: the vault and drawers in the basement.
Theresa Smith and Bill Larson go through a drawer of tourmaline. (Photo: Dona Leicht)
The vault I saw last year, on a visit with Pala's Gabrièl Mattice, and the year before when I did the gemstone appraisal. But I could view these minerals daily and never be bored. Just a sample: the two famous Pala Chief Mine kunzites, the best hiddenite from North Carolina, the museum's great liddicoatite slice from Madagascar, as well as various Hamlin and other Maine tourmalines crystals. And the golds. With these we spent more time, since we seriously had to ponder what these beauties are worth. They are mostly all priceless, but valuation numbers were given nonetheless.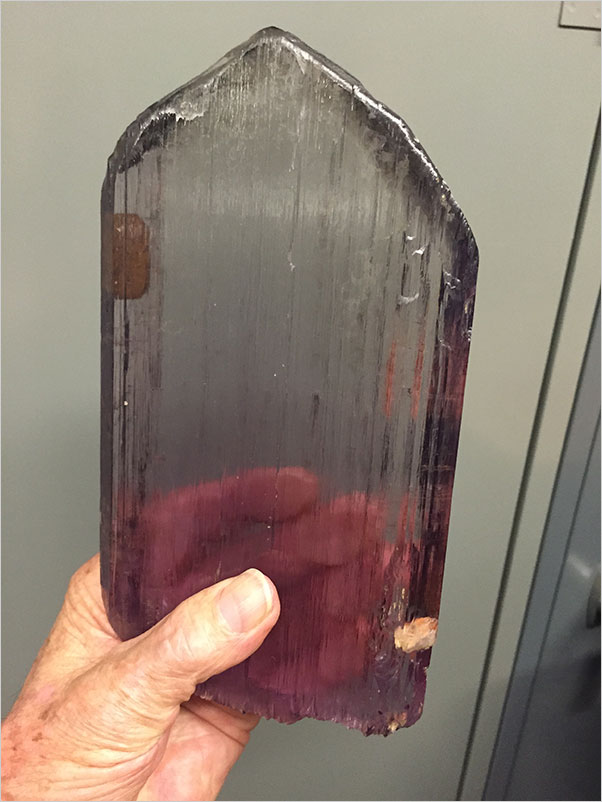 In addition to gorgeous gold, the Harvard vault holds two famous Pala Chief Mine kunzites. (Photo: Bill Larson)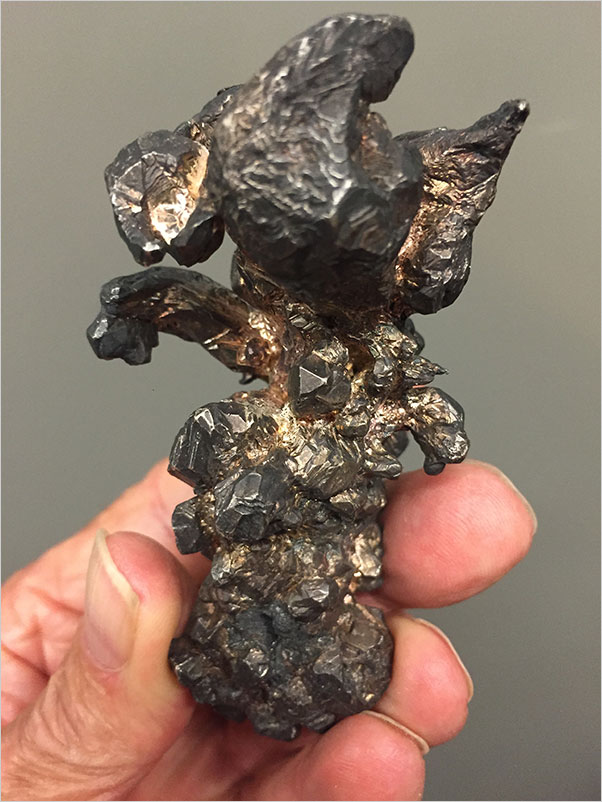 A silver crystal specimen from Kongsberg, Norway. (Photo: Bill Larson)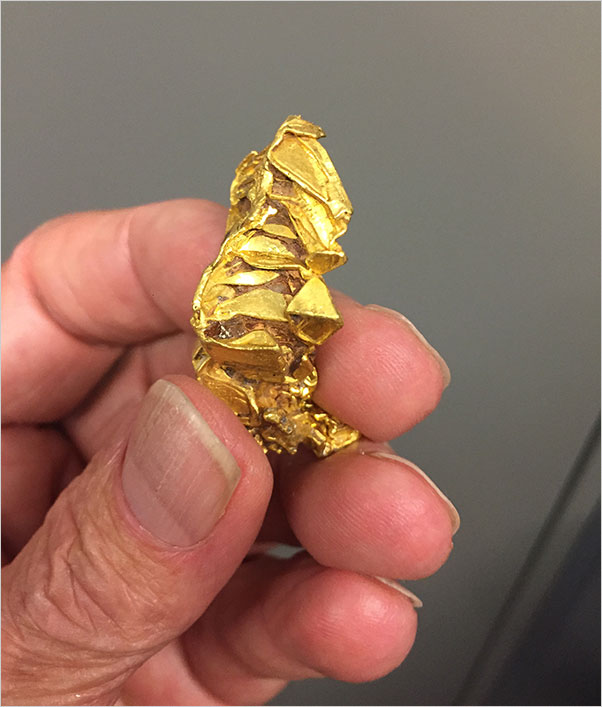 A Mexican specimen from the vault. (Photo: Bill Larson)
From the vault, a specimen hailing from the Mother Lode of California. (Photo: Bill Larson)
A California gold from the Harvard vault. (Photo: Bill Larson)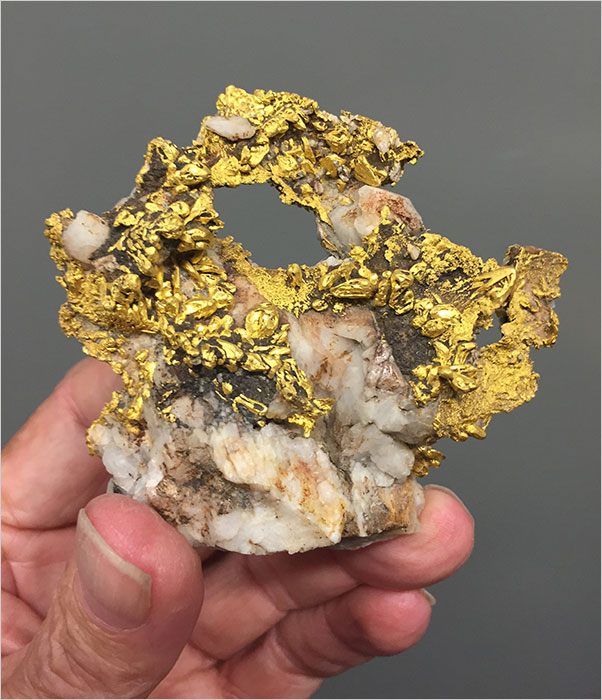 Georges de la Bouglise was sold, December 14, 1911. The entire collection was purchased at that sale by Albert C. Burrage of Boston. (Photo: Bill Larson)
This specimen's image was placed on the cover of the catalog for the public auction at which the fabulous gold collection of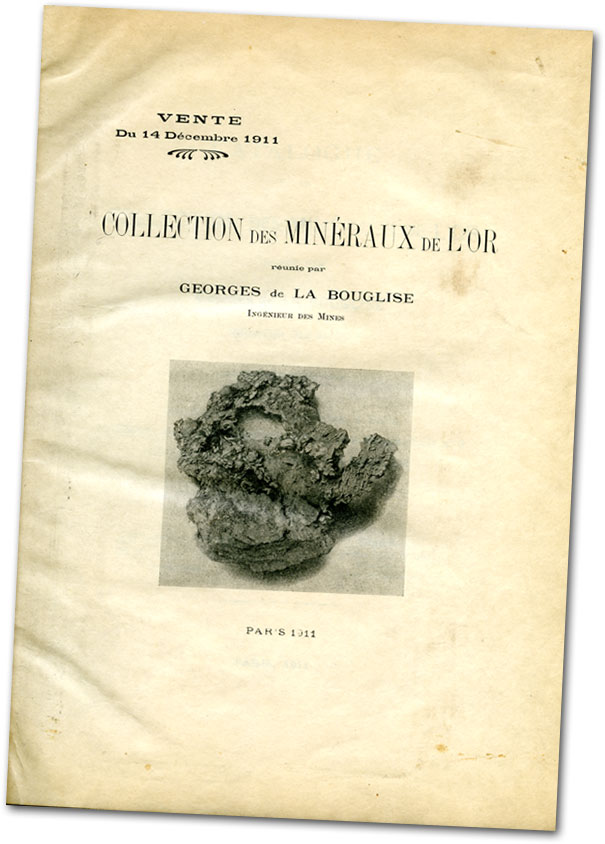 From the catalog of the December 14, 1911 auction of Georges de la Bouglise's gold collection. This comes from Bill Larson's personal library and was acquired from John Sinkankas.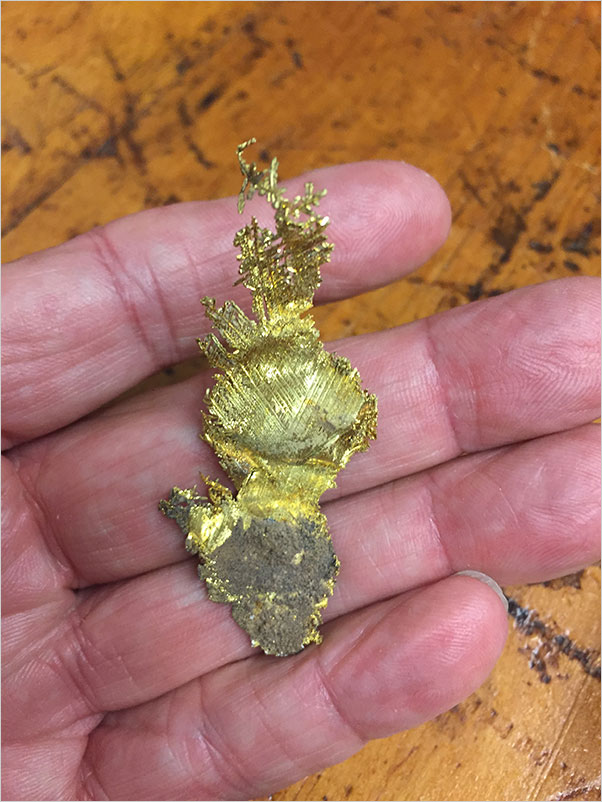 Included in the catalog for the December 14, 1911 sale, No. 406, described below. (Photo: Bill Larson)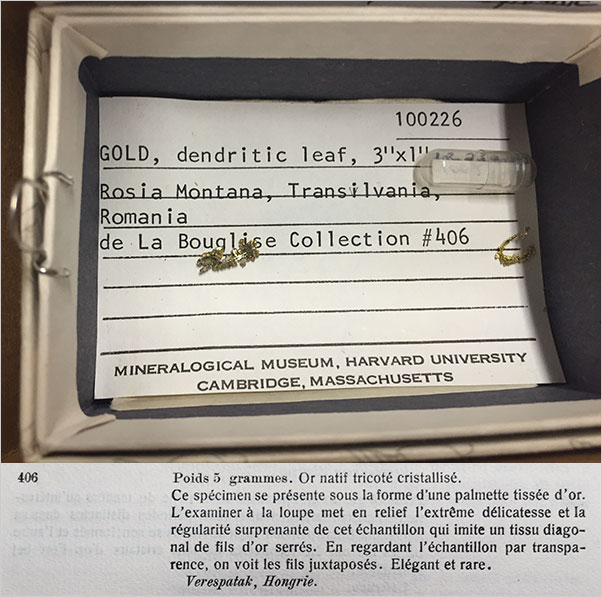 No. 406 from the auction catalog: "Weight 5 grams. Native knitted crystallized gold. This specimen is in the form of a palm leaf of woven gold. Examination by loupe highlights the extreme delicacy and surprising regularity in this sample that mimics diagonal fabric of tight gold wires. Looking at the specimen by transparency, the wires are seen juxtaposed. Elegant and rare." The locality in the catalog is given as Verespatak, Hungary, now Roşia Montană, Transylvania. (Photos: Bill Larson)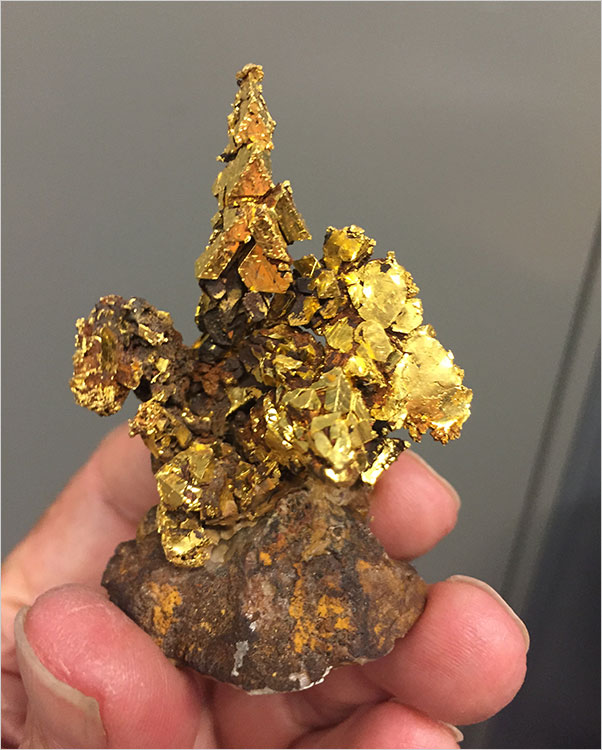 Included in the catalog for the December 14, 1911 sale, No. 368, described below. (Photo: Bill Larson)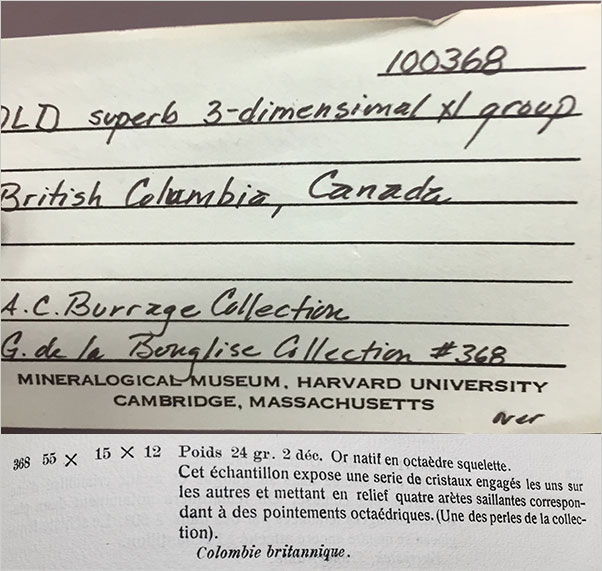 No. 368 from the auction catalog: "Weight 24 gr[ams] 2 dec[igrams]. Native gold octahedron skeleton. This sample exhibits a series of crystals engaged with each other and highlighting four protruding edges corresponding to the octahedral outcrop. (One of the pearls of the collection.)" (Photos: Bill Larson)
From the catalog of the December 14, 1911 auction of Georges de la Bouglise's gold collection. A. C. Burrage, having purchased the entire collection at that sale, bequeathed it to Harvard, but it did not arrive until many years after his death in 1931.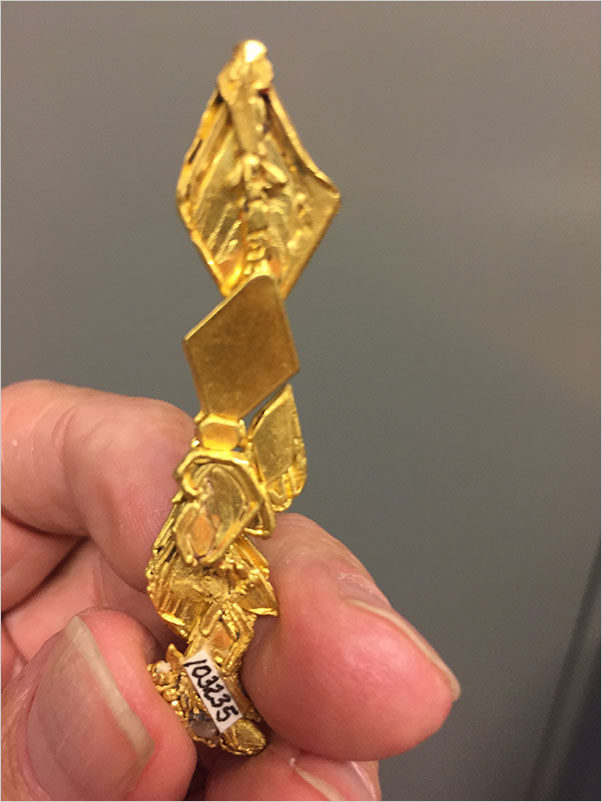 More California gold from the Harvard vault. (Photo: Bill Larson)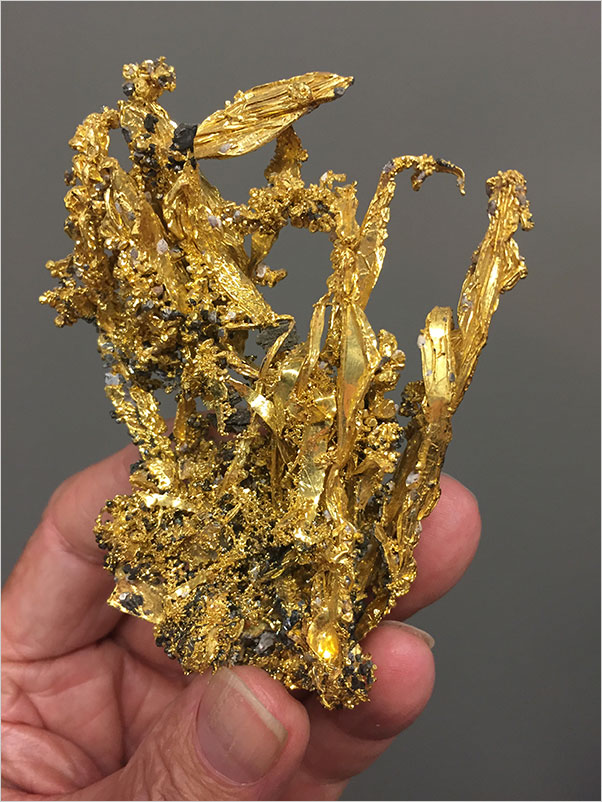 From Breckenridge, Colorado, another specimen from the Harvard vault. (Photo: Bill Larson)
The following day I was to look at the E. P. Hancock and single crystal collections, which are stored in a secure location off-site. The collections are marvelously housed in their original cabinets, however most of the valuable pieces were carefully selected out by various curators and are now stored at the museum.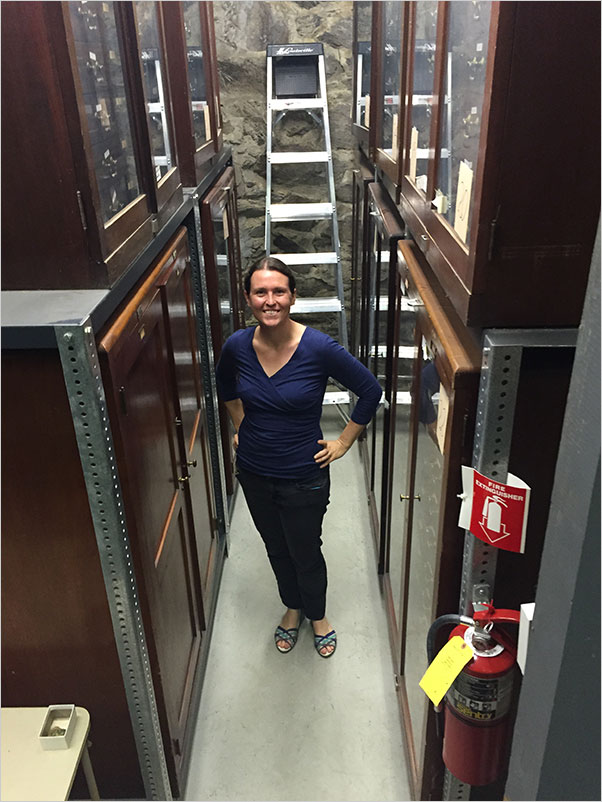 Theresa Smith stands between the Hancock collection's display cases, which contain some superb specimens. (Photo: Bill Larson)
We finished looking through many, many drawers, had a great lunch, and then met Raquel at the bank where they have a lock-box mostly filled with golds.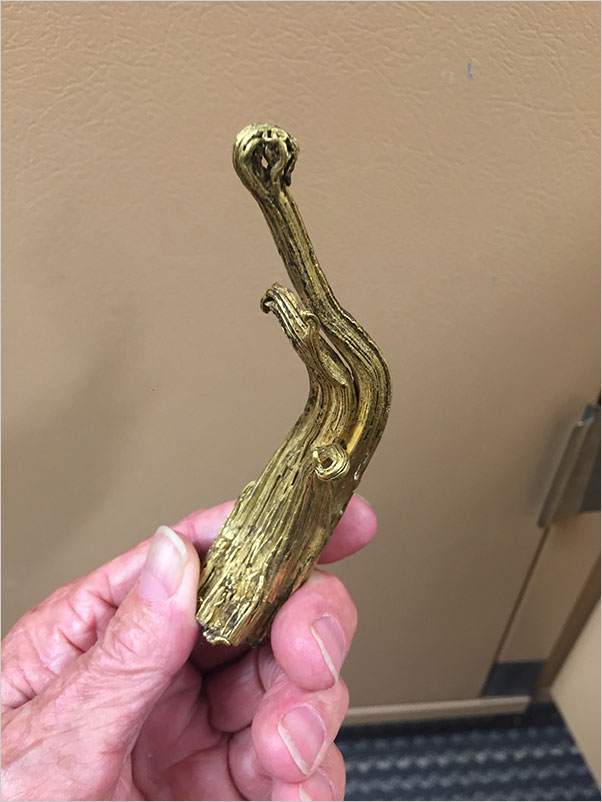 …but look what's inside. Harvard's most famous gold specimen, "The Wire," from the Ground Hog Mine in Colorado. Pricing the priceless is a dirty job, but someone's gotta do it. (Photo: Bill Larson)
Several of these golds I had not seen before. Not even with Cliff Frondel [curator, 1946–1977] in the old days. The greatest thrill is being able to hold "The Wire." I'd held it before at the Harvard display at the Munich show, but this seemed so special—on the bank floor, just holding onto this legend. I took a few quick snaps with my phone and gave my estimate, later confirmed as accurate by one of the top Colorado collectors, Mr. Dave Bunk.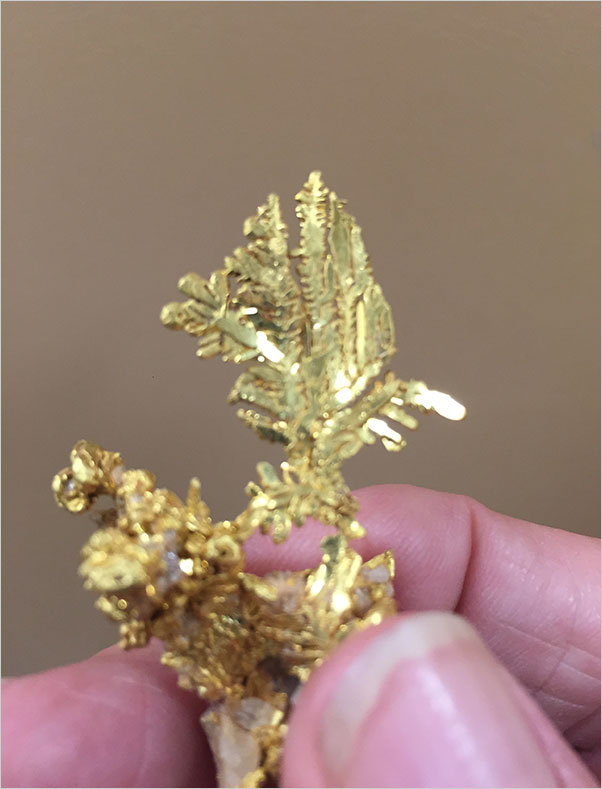 Another gold from the bank lock-box, this one from California. (Photo: Bill Larson)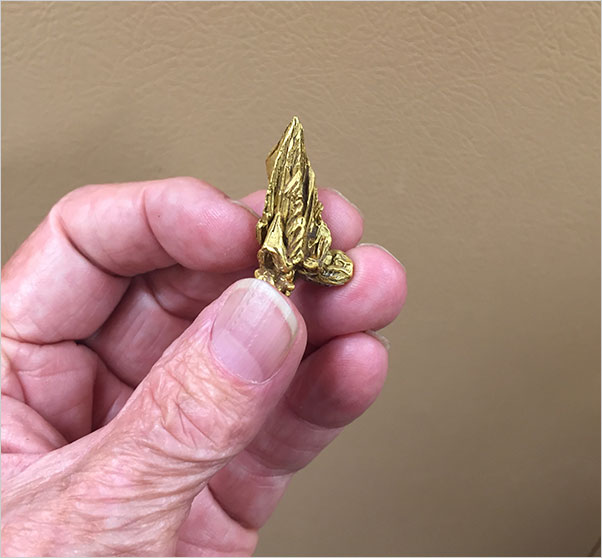 And another gold, a crystal from California. (Photo: Bill Larson)
We finished up the day's work and prepared for attending the Springfield show the next day. Raquel had arranged for several students to come along, and when I asked [show organizer] Marty Zinn if they had a courtesy entrance he very generously comped all the students and interns Raquel was bringing.
The Springfield Show
Friday we headed from Boston to the Springfield show with a van that included several students and interns anxious to see the show. We arrived midmorning. The parking lot seemed exceedingly full and indeed, when we went inside, the show was bustling.
On entry we thanked Marty for his generosity to the Harvard guests and congratulated him on what looked to be a successful show. The featured guest, showing fifty-two cases of minerals this year, was none other than Marty Zinn himself. [Bill Larson was honored with the special exhibit at the 2010 show.] So we started there. Quite impressive for having sold his first collection and rebuilding this new one!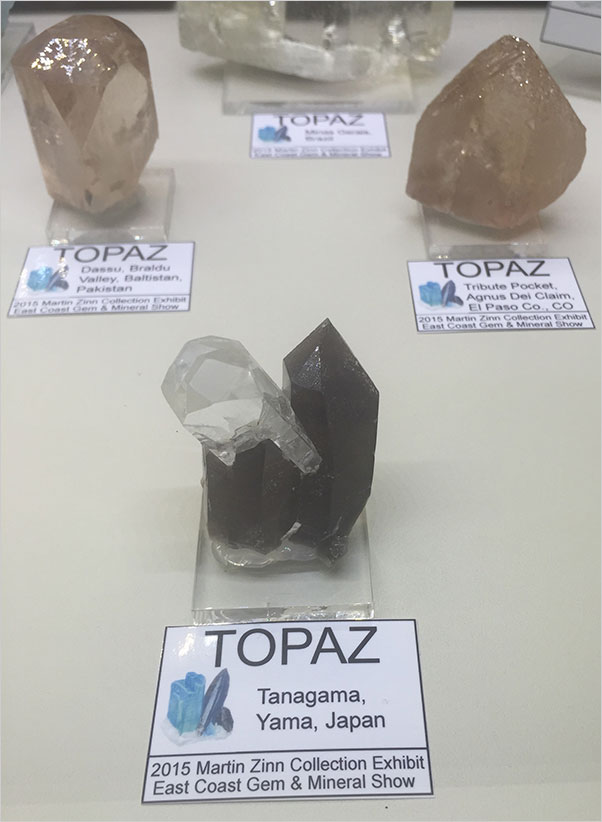 In a case of topaz I saw a Japanese piece my son Will would love. (Photo: Bill Larson)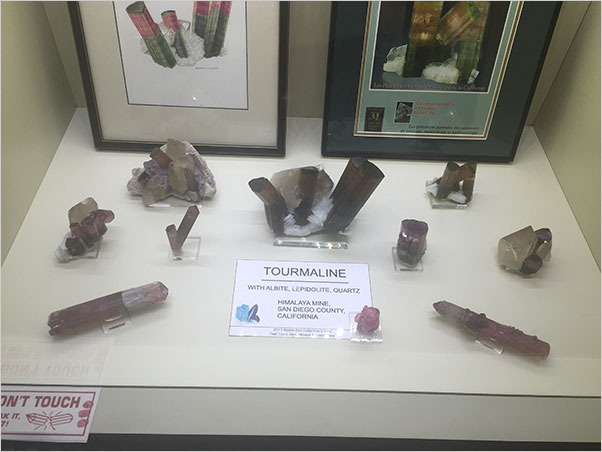 Most are pieces that Pala International's John McLean mined between 1980 and 1997. (Photo: Bill Larson)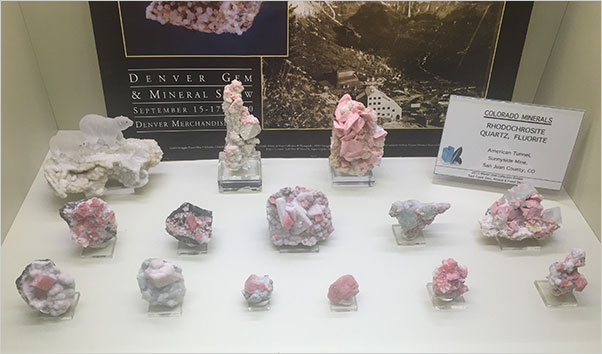 All of these specimens come from the Sunnyside Mine's American Tunnel, in San Juan County, Colorado. (Photo: Bill Larson)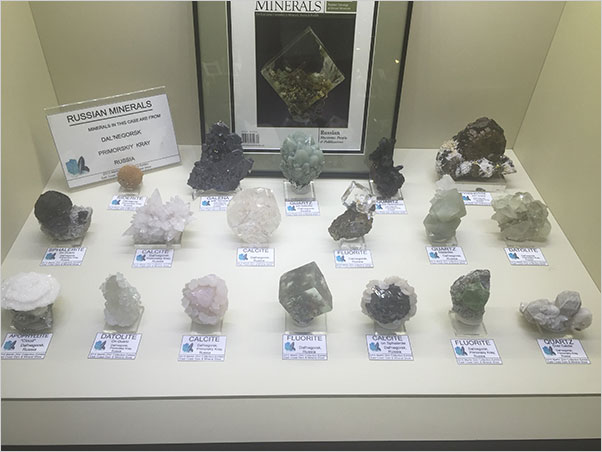 Rocks & Minerals' September/October 2011 edition. (Photo: Bill Larson)
Front and center is the subject of
This is one of the larger shows for minerals especially for an East Coast show. Moving through the show, we recognized many, many of our collector and dealer friends. David Friend was there with Gene Meieran and Gail and Jim Spann who had just come from a visit to Yale where David's collection soon will be housed.
I headed for several of my dealer friends' booths, starting with Stuart Wilensky's booth where I saw his first case had a sign inside—This case purchased by Green mountain minerals—with a large arrow pointing to Green Mountain Minerals. Quite a start to a show.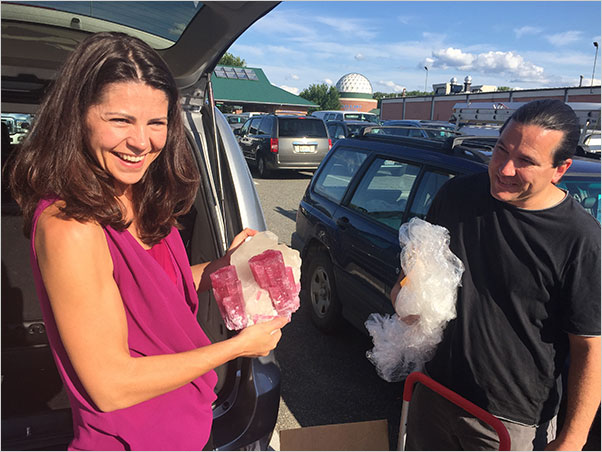 Click to enlarge. (Photo: Bill Larson)
At the show in Springfield, Raquel Alonso-Perez and Kevin Czaja had the extra benefit of receiving a newly cleaned tourmaline from the Pala Chief Mine in San Diego County.
I wandered through various dealers's booths and they seemed busy, which is always a good sign. Just before noon Raquel needed to visit Jason Baskin who has been collecting quite amazing pyrope garnets in schist from the Red Embers Mine in Erving, Massachusetts. These take careful preparation to become back-lighted treasures. Harvard had been promised one of the finest and Raquel was quite pleased to negotiate a win-win deal and secure perhaps the finest piece. I selected two very fine smaller pieces and am very pleased as well. Jason said hello to me for his father who I often purchased from in the past.
Later I had a flight from nearby Hartford, Connecticut, so I said goodbye to Springfield and my many friends, to head home to San Diego.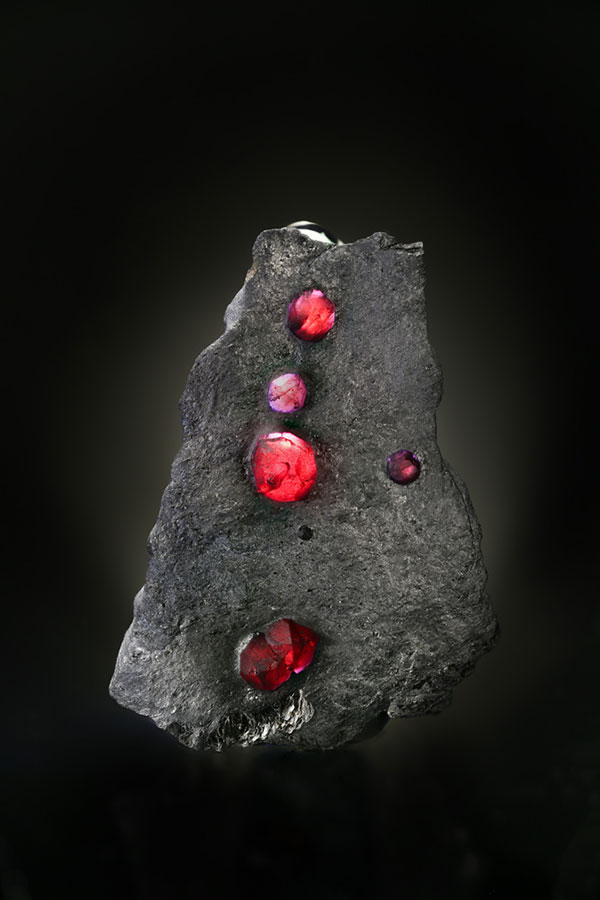 A gorgeous example of pyrope garnets in schist, from the Red Embers Mine in Erving, Massachusetts. Acquired by Harvard from Jason Baskin, who has been collecting these beauties. (Photo: Ben DeCamp)