2015.2 | 2015.1 | 2014.2 | 2014.1
2013.2 | 2013.1 | 2012.2 | 2012.1 | 2011.2 | 2011.1 | 2010.2 | 2010.1
2009.2 | 2009.1 | 2008.2 | 2008.1 | 2007.2 | 2007.1 | 2006
June 2014 Newsletter
Willard J. "Perk" Perkin, creator of the 1.25-inch cubic thumbnail display box that bears his nickname. It seems the Arizona DMV found the letters to be "obscene and offensive." The intrepid Dr. Schauss challenged the decision, asking friends in the mineral community to lend support, including Flagg Mineral Foundation chair Phil Richardson and mineral collector John Cesar, self-proclaimed "owner of many Perky Boxes," who wrote: "To those of us in the mineral collecting community, the special plastic display box or Perky Box, as it is called has been around longer than most Arizonans." Last week, Dr. Shauss prevailed. Huzzah!
Dr. Alexander Schauss ran into a snag when he tried to obtain a personalized licence plate paying tribute to
Shows and Events
Pala International News
Minerals and Mineralogy News
Pala Presents
Recycle Bin
Shows and Events
Mineral & Gem à Sainte-Marie-aux-Mines: June 26–29, 2014
The 51st Sainte-Marie show will be held June 26–29, with the first two days limited to trade only. This year, Bill, Will, and Carl Larson will attend the show along with friend and fellow gem dealer Mark Kaufman. The show's website has had a makeover.
Details in English are still forthcoming for the 51st Sainte-Marie show in June, but we thought we'd point to our friend Alain Martaud's limited-edition book, The Minerals of Sainte-Marie-aux-Mines. Alain discovered the Sainte-Marie mining district at age 14 and over the years has built strong relationships with collectors and museums, allowing the reader to access to a treasure trove of specimens and more.
The 208-page book, signed by the author, contains 356 photos of the minerals found in Sainte-Marie's Val d'Argent in the last millennium. The book also includes illustrations, maps and historic documents. The text is trilingual: French, English and German.
The book is available from the show's online store. [back to top]
Pala at Denver Fine Mineral Show: September 6–9, 2014
Pala International will exhibit at the inaugural Denver Fine Mineral Show in nearby Golden.
When: Sept. 6–9, 2014
Where: Denver Marriott West, 1717 Denver West Bl., Golden
Hours:
Sat.–Mon.: 10 a.m.–6 p.m.
Tue.: 10 a.m.–5 p.m.
Admission: Free and open to the public
We look forward to seeing our many friends there.
Visit the Pala International Show Schedule for future events. [back to top]
Breathing Life Into the Inanimate: Artists Inspiring Artists
Once upon a time in the dark days of the 1990s, when AIDS became the number-one cause of death of men 25–44, your editor was given a cross-like construction by Los Angeles artist John Schroeder—with a story behind it. Schroeder was landlord to a man we'll call G, who had the disease well before the advent of life-prolonging drugs. A challenge like AIDS can bring out the best in people, but G was not one of those. As his condition deteriorated, he became meaner and meaner. It brought out the best in John, however. Undaunted, he would visit G in the hospital, the staff figuring the two surely were life partners, since who else would put up with G's rotten attitude? G died, of course, and some time later I was given the cross. "This piece (which John calls Pathos) was inspired or given to John by his experience with G," wrote the giver, John's sister-in-law. "I hoped you would appreciate its strangely religious beauty." Strange and beautiful it was, too, when I was told the cross was assembled from wood and cloth lifted from G's bedside.
Thus artists take inspiration where they find it. And sometimes they are roused by other artists. Such was the case twenty years ago when artist and jeweler William Harper created his "Homage to Cy Twombly and Joseph Cornell," pictured below, a tribute to artists from earlier generations. We don't often include examples of jewelry in this newsletter (leaving that to our sibling publication), but I couldn't resist Harper's use of tourmaline, agate and coral. For instance, the translucent tube of solid agate at lower left; it really makes the piece. The brooch currently is on view in the Metropolitan Museum of Art's Unique by Design: Contemporary Jewelry in the Donna Schneier Collection, which runs through August 31, 2014. And we should mention here that the Met announced last month that 400,000 images are accessible by the public. See results returned for William Harper, Cy Twombly and Joseph Cornell.
William Harper (American, born 1944). Click to enlarge.
, 1994. Brooch: 14K gold, 18K gold, 24K gold, gold cloisonné enamel on gold and silver, sterling silver, tourmaline, coral, agate, Mexican opal, and pearl. Book (not shown): Leather and mixed media. Brooch: L. 6 7/8 x W. 5 3/8 in. (17.46 x 13.65 cm). Book: L. 15 x W. 12 3/4 x H. 2 in. (38.1 x 32.38 x 34.67 cm). The Metropolitan Museum of Art, Gift of Donna Schneier, 2007 (2007.384.18a, b).
Much of the sculpture by Cy Twombly (1928–2011) employed spindly pods on stems, cloth-wrapped dowels, propped-up flagless poles, all often dribbly gessoed. ("White paint is my marble," as he is quoted in Schmidt.) The technique is known as assemblage: taking found, unrelated objects and giving them a new (still) life. (But these are not the readymades of Marcel Duchamp nor the constructivist constructs of Vladimir Tatlin, although there is some cross-fertilization.) The assemblages of Joseph Cornell (1903–1972) are less monochromatic than Twombly's: repurposed boxes that become rooms, theater stages and backdrops, three dimensional paintings; like static frames of the Brothers Quay stop-action animation.
Monographs on these artists are filled with examples of what stirred their hearts. Witness Cornell's titles: Story Without a Name—for Max Ernst; La Croisée, the Casement Window: Vermeer's Secret; Duchamp; For Paul Dukas "Symphony in C"; A Keepsake for John Donne; Mica Magritte II: Time Transfixed; A Parrot for Juan Gris; Variant Version for the Mahler Mäed.C.hen #2 (Symphony #3). Cornell's work, in turn, incited author Jonathan Safran Forr to "curate" a collection of fiction and prose written by twenty writers who were inspired by Cornell. As for Twombly, he shared the studio of allied artist Robert Rauschenberg—readymade motivation. And Katharina Schmidt's bilingual Cy Twombly: Die Skulptur / The Sculpture is littered with the sculptor's muses, visual and otherwise. "Twombly's love of the other arts, especially poetry," she writes, "led him to choose themes and motifs that—having originated as word-pictures—lent themselves to translation into his own medium." Twombly literally incorporated the words of poets like Rainer Maria Rilke and Constantine Cavafy into his work.
With William Harper's "Homage" to the two artists, I was tempted to say that he combines Twombly's freeform spindles with Cornell's enclosures. You see, as noted in the caption above, this brooch comes with its own case, in the form of a book. I asked Harper about it, to which he replied, leading with a listing of his other sources of inspiration.
I work in series with generally referential themes, often to other art, but also to music, exotic cultures, even tastes and aromas. There were eight or nine of the "books" which are actually display holders for the brooches. They were all of the same format, with an elaborate mixed media assemblage/collage under Plexiglas as the front and a suede back page with a small fastener to hold the brooch. This front panel would include handwritten passages and drawings about rather arcane influences from the two artists who inspired me.
The Met declined to include container forms in this show, Harper told me, so as not to distract from the exhibition's focus. We're all eyes.
References
Cornell, Joseph and Marcel Duchamp. 1998. Joesph Cornell/ Marcel Duchamp…In Resonance. Ostfildern-Ruit: Hatje Cantz; New York: Distribution in U.S. by D.A.P. Distributed Art Publishers.
Forr, Jonathan Safran. 2001. A Convergence of Birds: Original Fiction and Poetry Inspired by the Work of Joseph Cornell. New York: D.A.P. Distributed Art Publishers.
Hartigan, Lynda Roscoe. 2007. Joseph Cornell: Navigating the Imagination. New Haven: Yale University Press. This text contains not only a bibliography for the artist, but also a bibliography of Cornell's own reading.
Schmidt, Katharina. 2000. Cy Twombly: Die Skulptur / The Sculpture. Ostfildern-Ruit: Hatje Cantz; New York: Distribution in U.S. by D.A.P. Distributed Art Publishers.
[back to top]
What's Hot?
What's Hot in Munich 2013
Last fall, the Munich Show celebrated its golden jubilee—fifty years of presenting a world-class exhibition of minerals. It was appropriate to feature gold, of course. As BlueCap Productions put it, regarding their documentation of the event, "For three days in October, probably the finest collection of gold specimens ever assembled in history was on public display to astound the over 40,000 visitors."
BlueCap's What's Hot In Munich 2013 is now available via DVD or HD download. Your show hosts are Dr. Peter Lyckberg and Bryan Swoboda.
Dallas Mineral Collecting Symposium 2013
Also now available is the downloadable Dallas Mineral Collecting Symposium 2013. The viewer has the option of purchasing the entire 354-minute version or individual presentations.
Friends of Pala International get a 10% discount on any BlueCap order. Just enter the code palaintl when you're asked for it while ordering.
Dallas Mineral Collecting Symposium 2014 – August 23
The 2014 Symposium, to be held at Southern Methodist University, features the following lineup of presenters:
Dr. Robert Hazen: The Great Oxidation Event – Diversity of Colorful Mineral Species
Dr. Peter Megaw: Adventures in Mexico's Great Specimen Mines
Evan Jones: The Milpillas Mine, Sonora, Mexico – A Modern Bonanza
Dr. James Houran: Thumbnail Specimens: Little Treasures – Collecting and Competing
Les Presmyk: Red Cloud – The World's Greatest Wulfenite Locality
Dr. David Mustart: Origin of Precious Metal Deposits – Mines That Produce World-Class Collectible Specimens
Dr. Robert Cook: Gold Rush – California's Crystallized Gold Specimens
Tony Fraser: Gold Fever – Monster Gold Nuggets of Victoria's Golden Triangle
Details and registration are available at the Symposium website. [back to top]
Pala International News
Pala's Featured Specimens
With this edition of our newsletter we feature two specimens from opposite ends of the earth.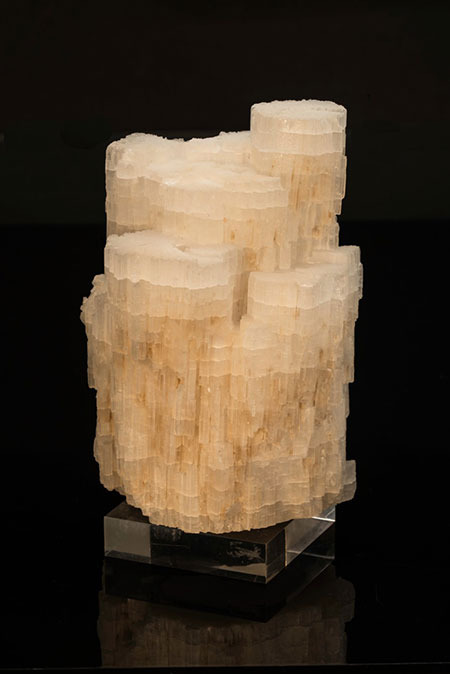 , a rare species, from Afghanistan, 11.5 x 7.5 cm. Price available upon request. (Photo: Mia Dixon)
We lead off with a great rarity—a large, double-terminated, very complex beryllonite from Paprok, Nuristan Province, Afghanistan. This is a specimen for an advanced collector or museum.
, 8 x 6 x 3 cm, from Colombia, $6500. (Photo: Mia Dixon)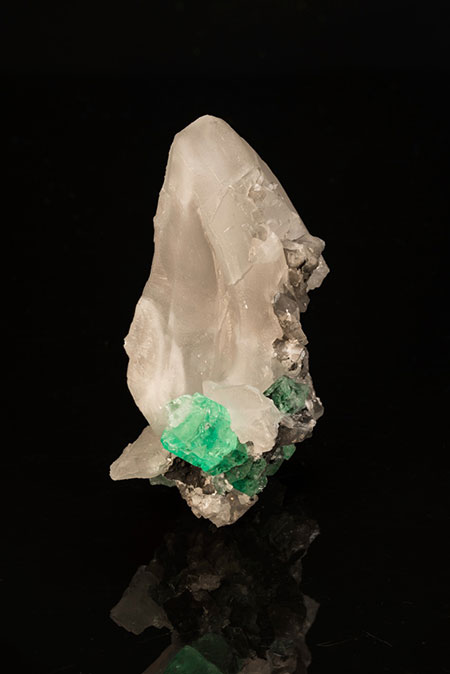 We call our second featured specimen "The Emerald Sail Ship," with its concave calcite catching the ocean's air. This is an aesthetic, large calcite crystal with no damage and a lively green emerald crystal attached at the bottom. The emerald has a fine, etched termination that adds to its beauty. The sail hails from the locality of La Pita Mine in La Pita, Mun. de Maripí, Vasquez-Yacopí Mining District, Boyacá Department, Colombia.
Interested? Contact us to inquire. [back to top]
Minerals and Mineralogy News
Pretty, Puny Putnisite
The February 2014 edition of Mineralogical Magazine (78:1, 131–144; abstract) announced the identification of a new mineral from the Polar Bear peninsula, Southern Lake Cowan, Western Australia. The material is called putnisite, named after mineralogists Andrew and Christine Putnis, University of Münster, "for their outstanding contributions to mineralogy, especially phase transformations in minerals and mineral surface science (mainly crystal growth and dissolution processes)" per Mindat. When Andrew first was told about the naming, he asked, "Can I make a ring out of it?" according to PRI. The answer is No; the mineral occurs in tiny, .5-mm-sized pseudocubic crystals. It also is too soft, with a Mohs hardness of 1½ to 2. But it is quite lovely, as the image below attests.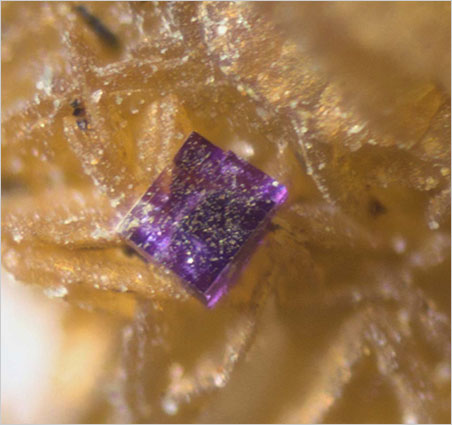 A 0.2 mm crystal of
, Armstrong Mine, Widgiemooltha, Coolgardie Shire, Western Australia, Australia. (Specimen and Photo: John Haupt)
As reported by LiveScience, the mineral was discovered by miners prospecting for nickel and gold who saw bright pink specks. Samples first were sent to the Commonwealth Scientific and Industrial Research Organization (CSIRO), and then to Peter Elliott, a research associate with the South Australian Museum, coauthor of the above-referenced article. [back to top]
Emerald Pool a Hidden Gem
About a week ago, NASA's Earth Science Picture of the Day featured a writeup and images of Michigan's largest natural freshwater spring, Kitch-iti-kipi ("big cold water," according to Hunt's Guide). Through snow-white sand flow 10,000 gallons a minute of water with remarkable clarity, having been filtered along the way through fissures in limestone. The water maintains a temperature of 45° year-round. Mineral-coated tree trunks and fish can be seen from a self-operated observation raft. Legends regarding the spring are recounted at the Michigan Department of Natural Resources, but caveat lector.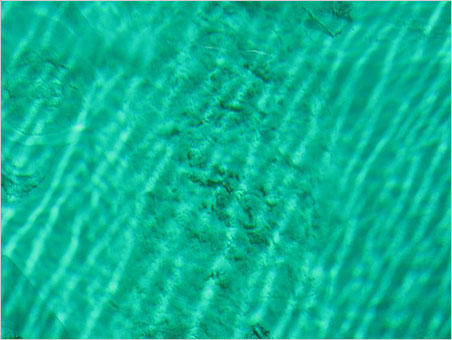 Andrew, All Things Michigan)
Sand is disturbed by water flowing through it at the Kitch-iti-kipi spring, Michigan's largest at 50,000 square feet. (Photo:
The spring hasn't always offered pristine scenery. It had been a logger's dump, with vegetation growing over the piles of trash. Dime store owner John Bellaire saw through the debris and convinced the spot's owner, the Palm Book Land Company, to sell the spring and 90 acres surrounding it to the State of Michigan for $10 in 1926. The State eventually acquired another couple of hundred acres. [back to top]
This Silence Is Golden: Mining Nina Elder
When your editor travels to Taos, New Mexico, I try to catch what's up at The Harwood Museum of Art, one of several operated by the University of New Mexico. Just before it closed on May 4, I caught "Art for a Silent Planet: Blaustein, Elder and Long," an exhibition by a trio of northern New Mexico artists. The motive behind the show was to expose this lesser-known threesome to visitors, like me, who would want to take in the work of big-name (and Taos denizen) Ken Price, recently departed, who was represented in a retrospective called, "Slow and Steady Wins the Race, Works on Paper 1962–2010." As Jina Brenneman, The Harwood's curator of collections and exhibitions writes, Blaustein, Elder and Long are part of a trend—and a lasting one, we hope—participating in visual conversations about our planet and regional landscapes. "And these artists," Brenneman writes, "all visually submit a silent, objective, and dispassionate plea for environmental introspection."
In the show, Jonathan Blaustein's work was bold and smirky, just that side of silent. His "People Feed This to Their Children" was an image of a blue rock-candy crystal swizzle stick, the kind we've all seen but can't imagine ingesting. Debbie Long's "Tow Package/Yellow" was a confessional-sized cave studded with backlit stalactitic cast-glass objects from an auto boneyard—CB radio parts, hood ornaments and car parts—all brought into the "natural" world by Long's siliceous alchemy. But what really grabbed me were the panels of Nina Elder. Here the silence was complete, deafening, as the saying goes, but not from lack of response.
Nina Elder. Four from the series Click to enlarge. More work can be seen at www.ninaelder.com; sales inquiries can be made here.
, 2014, Graphite and dirt on paper, 8" x 8".
Elder tells me she works as a painter, drawer, construction worker, farmer and arts administrator—whew!—who grew up in the Rockies of Colorado and New Mexico. Her playgrounds—and landscapes—were mines, gravel pits and lumber mills. "Through paintings, drawings, and actions," Nina says, she "endeavors to illuminate that the contemporary landscape is the physical manifestation of modern needs, economies, policies, and powers."
Nina Elder. Click to enlarge.
(Joseph's Mine, Ojo Caliente, NM), 2014, graphite on paper, 36" x 24".
"Mining is seen by some as an environmental disaster," she says, "yet it is inextricably linked to our ability to sustain contemporary life." Like musician and artist John Cage, Elder dares to find the sound in silence, the womb in the tomb of the abandoned shaft. "A pile of rocks might seem vague, innocuous, and mundane, or it might seem like a relic of some disaster," she says, causing the viewer to ask, "What kind of explosion caused this rubble? Why is there a hole in the ground?" The reply: "The piles of rock that I depict in this series of paintings and drawings are neither innocent nor the result of catastrophe. They are the result of mining, one of the most overlooked, yet literally earth shattering, human activities."
Nina Elder. Click to enlarge.
, 2012, acrylic on panel, 24" x 24".
Like Cage's sonatas for prepared piano, which rendered some quivering strings nearly mute, Elder's topographies are ineluctably altered. As Leonard Cohen has sung, "There is a crack in everything/ That's how the light gets in"; there is room for musing. Says Elder, "My work poses these questions about the resiliency of a natural environment barraged with industrial voracity."
Nina Elder. Click to enlarge.
, 2011, acrylic on panel, 48" x 60".
[back to top]
eARTh: World Wonders
As anyone knows who's spent time on social media sites, there's an awful lot to divert the attention from the 9-to-5. Disctractify.com wears this on its virtual sleeve, and we were happy to be sidetracked recently with a collection of fifty items demonstrating the varieties of earthly experience.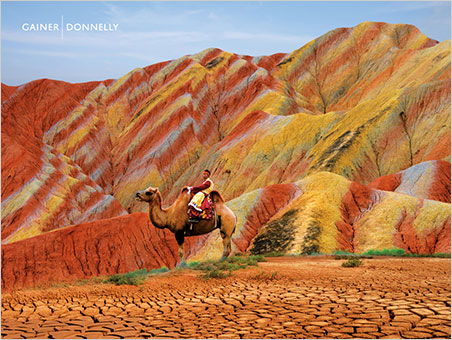 calendar and PC wallpaper, on the theme of "A World of Special Places." The image above, from the calendar, was taken at Zhangye Geology Park, near the city by the same name, in north-central China. It was a key spot on the Silk Road. Sam Gainer traveled there and asked this mounted Mongolian man, seated on a rare Bactrian (two-humped) camel, if he would pose. The landscape, known as the Danxia landform, is a UNESCO World Heritage Site, and is formed by the combined exertions of uplift and erosion.
Distractify culled this image from the CPA firm formerly known as Gainer Donnelly. It was included in the firm's 2013
[back to top]
Separating the Crystals from the Nuggets
In April, scientists at Los Alamos National Laboratory verified the world's largest single crystal of gold. Four samples came to the lab via John Rakovan, professor of geology at Oxford, Ohio's Miami University. (He also is an executive editor of Rocks & Minerals.) Because of their size, it was uncertain that they were single crystals.
According to a University of Miami story posted on February 13, the samples were collected in placer deposits between the mesas (tepuis) of La Gran Sabana and the Roraima Shield District of southeastern Venezuela. The unnamed owner lived in Venezuela for thirty years during which time he and his business partner dealt in diamonds and gold from the region. The four being studied are the cream of the crop, and were offered at auction in 2006. But there were questions as to the authenticity of the trapezohedral sample; if it was a single crystal, it would be the world's largest trapezohedral single crystal in the world.
When the samples were given to Professor Rakovan, he studied the trapezohedral sample using X-ray diffraction. The results were mixed: all faces except one demonstrated polycrystallinity. It was time to dig deeper, using another noninvasive technique—neutron diffractometry—which can penetrate one to two centimeters into gold (versus X-ray, which peters out at a few hundredths of a millimeter). So he approached Los Alamos.
not a world-record trapezohedral crystal. Click to enlarge. (Photo: Los Alamos National Laboratory news release)
Three of the four samples were single-crystal pieces of gold, rather than the commonplace multiple-crystal type. Of particular interest was a golf-ball-shaped nugget, bottom center, that at one time was believed to be the world's largest trapezohedral gold crystal. The Los Alamos instruments confirmed that that one was
Rakovan was excited about the, mm, prospect of the study at Los Alamos—as reported by the lab on April 7—because investigating the atomic arrangement of gold crystals this size hadn't been done before. By the time of the February 13 story, Rakovan and his Los Alamos colleagues had determined that three of the samples pictured above were indeed single crystals. With the April 7 story, came two notable announcements. First, the trapezohedral sample was determined to be polycrystalline. Second, the largest of the true single-crystal golds, at 217.78 grams, happens to be the largest such crystal in the world.
For those scientifically minded, the April 7 report has a description of the technology employed as well as a brief streaming video that takes you into the lab. In the video, New Mexico State University physics professor Heinrich Nakotte states that the gold in the largest crystal has a market value of about $10,000, but a single crystal could increase that by "a factor of 100 or more." [back to top]
Pala Presents
Notes on the Lithium Pegmatites of Pala, California
An article by Maurice Donnelly
With Pala Presents, we offer selections from the library of Pala International's Bill Larson, who will share with us some of the wealth of information in the realm of minerals and mineralogy.
In June 1936, a year after he'd received his PhD from Caltech, Maurice Donnelly contributed "Notes on the Lithium Pegmatites of Pala, California" to The Pacific Mineralogist. He had received his EM degree from the Colorado School of Mines and his MS also from Caltech, writing his thesis on the geology and mineral deposits of the Julian region of San Diego, which was published by the State of California in 1935. By 1945, Donnelly worked in the Soil Conservation Service in Riverside.
At the 1935 commencement, Richard Chase Tolman gave the address. Tolman is commemorated each year when the Southern California Section of the American Chemical Society issues its Tolman Medal in recognition of outstanding contributions to chemistry. It was Tolman who introduced the young Linus Pauling to quantum theory. Donnelly apparently was a fan of Pauling's, in August 1960 writing him, congratulating him on "fighting battles," likely in reference to Pauling's peace activism, his being denied a passport in the early 1950s, and his publicity regarding radioactive fallout.
Donnelly's 1936 article is yet another pre-war take on the Pala district. He takes the reader through the geography, history, geology, pegmatitic structure, and then mineral by mineral. [back to top]
Recycle Bin
Below is a recent item from our sibling publication, Palagems Reflective Index, that will be of interest to mineral enthusiasts.
Bonhams Offers Largest Ruby Crystal
On May 20, Bonhams Los Angeles featured the largest ruby crystal ever to be offered at auction. It hails from the Longido Mine, Arusha, Tanzania. It weighs 100.53 lbs (228,000 ct) and measures 16 x 12 x 11 in.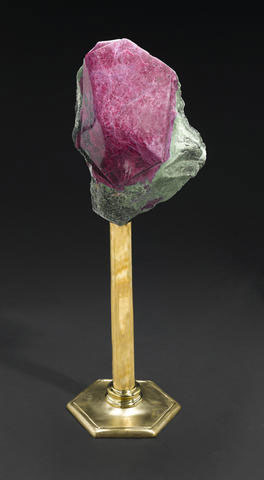 Photo: Bonhams press release
The Bonhams lot details recount the story of the Longido claim by Tom Blevins and the purchase of another large crystal from Blevins by Ed Swoboda. This is the same story Ed provided us with before his death. See "Longido Ruby" on Palagems.com. The above-pictured ruby is seven times larger than the one Ed obtained.
The crystal did not sell, but a museum-quality carving of a fan-tail falcon, from multi-colored tourmaline, did sell. According to the lot details, the figure was carved from a single piece of Brazilian tourmaline. It is the largest falcon that carver Manfred Wild of Idar-Oberstein, Germany, ever has carved. [back to top]
— End June Newsletter • Published 6/3/14 —
April 2014 Newsletter
here.) Above, bezoar stones on display in the German Pharmacy Museum in Heidelberg Castle. For centuries the stones have been thought to have curative properties. (Photo: Gerhard Eisner)
Jared Buzzell, of Lisbon Maine, witnessed a porcupine being hit by a car while he (Buzzell) was mushroom hunting Thursday. Remembering that his uncle had taught him the animal might contain a valuable bezoar stone (no, not a tourmaline), he cut open its stomach only to find instead a baby porcupine ready to pop. Massaging it, the tiny tyke began to breathe and is being cared for by him prior to being given to animal rescue. (See video
Shows and Events
Pala International News
Minerals and Mineralogy News
Industry News
Pala Presents
Recycle Bin
Shows and Events
Twelfth Annual Sinkankas Symposium – Peridot and Uncommon Green-colored Gem Minerals
April 5, 2014, GIA World Headquarters and
The Robert Mouawad Campus, Carlsbad
This year's theme focuses on peridot and green-colored gems that have lower public recognition than their more illustrious counterparts such as emerald, jade, etc. For instance, Pala International's Bill Larson will offer "Green with Envy," a photographic odyssey of fine crystals and cut gems from worldwide localities featuring peridot and a panoply of uncommon green gems of beguiling beauty ranging from A (actinolite) to Z (zircon). Lisbet Thoresen, whose study of ancient garnet we reviewed in January, will discuss the disappearing act of the "poor man's emerald" in her presentation, "Chromian Chalcedony: A Gem from History's Lost and Found."
This dioptase on gray calcite is a quite affordable thumbnail. From Tsumeb, Namibia. It features a sprinkling of bright green crystals beneath the lustrous larger crystals. Inv. #19477. (Photo: John McLean)
Note that the speaker lineup has changed. Visit the Sinkankas Symposium website for speaker bios and abstracts of presentation topics.
Lisbet Thoresen (for Dr. James A. Harrell), keynote speaker – Discovery of the Red Sea Source of Topazos (Ancient Gem Peridot) on Zabargad Island, Egypt
Dr. Skip Simmons – Mineralogy and Crystallography of Peridot
Dr. James Shigley – Olivine Geology
Dr. Raquel Alonso-Perez – How Green Was My Sapat Valley: Peridot of Pakistan
Dr. George Harlow – Peridot from Pyaung-gaung, Mogok Tract, Myanmar: Similarities to Sapat and Zabargad Deposits
Nathan Renfro – Cutting Peridot and the Exploration of Its Inclusions
Lisbet Thoresen – Chromian Chalcedony: A Gem from History's Lost and Found
Robert Weldon – Magnificent Jewels of the Cheapside Hoard
Dr. James Shigley – Green gem materials
William Larson – Green with Envy: Gem Minerals from the Collection of William F. Larson
Dr. George Rossman – Causes of Color in Green Gem Minerals
The Sinkankas Symposium is organized by Roger Merk, and co-sponsored by the Gemological Society of San Diego and the GIA (Gemological Institute of America). It will be held Saturday, April 5, 2014, at the GIA World Headquarters and The Robert Mouawad Campus, 5345 Armada Drive, Carlsbad, CA 92008.
Registration
Registration officially closed today. But Roger Merk is making an exception for our readers by extending registration for another day. To get in under the wire, you must call him (619.971.2018) or email him on Wednesday, April 2.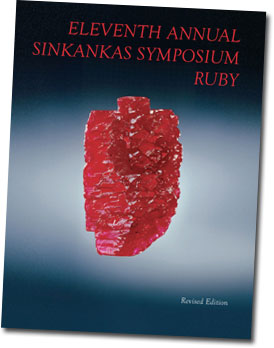 Pala International is pleased to be co-publisher of the revised edition of the proceedings of the Eleventh Annual Sinkankas Symposium – Ruby. This lovely, 130-page volume is now available for online purchase.
[back to top]
Houston Fine Mineral Show: April 25–27, 2014
Later this month, purveyors and procurers of first-rate mineral specimens will be heading to Houston for the Fine Mineral Show. Pala International's Will Larson will be in attendance, perusing the booths of nearly fifty dealers.
The show is held at the Embassy Suites near The Galleria and features free parking and free admission.
If you're curious about the fluorite specimen used in this year's publicity, photographed by James Elliot, we obtained the following from the show's Facebook page: it's from Southern Illinois, measures about 2.5 inches tall. The black, rectangular forms in the crystal at upper right are actually very dark purple crystal inclusions.
The Fine Mineral folks also have announced the new Denver Fine Mineral Show, to be held September 6–9, 2014, at the Denver Marriott West, in Golden. Pala International is pleased to participate in the inaugural show (as well as the Colorado Mineral & Fossil Show, as usual). [back to top]
Mineral & Gem à Sainte-Marie-aux-Mines: June 26–29, 2014
The 51st Sainte-Marie show will be held June 26–29, with the first two days limited to trade only. This year, Bill, Will, and Carl Larson will attend the show along with friend and fellow gem dealer Mark Kaufman.
Details are still forthcoming for the 51st Sainte-Marie show in June, but we thought we'd point to our friend Alain Martaud's limited-edition book, The Minerals of Sainte-Marie-aux-Mines. Alain discovered the Sainte-Marie mining district at age 14 and over the years has built strong relationships with collectors and museums, allowing the reader to access to a treasure trove of specimens and more.
The 208-page book, signed by the author, contains 356 photos of the minerals found in Sainte-Marie's Val d'Argent in the last millennium. The book also includes illustrations, maps and historic documents. The text is trilingual: French, English and German.
The book is available from the show's online store. [back to top]
Pala International News
Pala's Featured Specimen: Chrysoberyl Twin from Brazil
This month's featured mineral is a chrysoberyl twin that dates back to the 1970s when they hit one large pocket full of great specimens like this very one. The surface of the crystal has very nice striations and the transparency can be seen in the tips of it. This V-twin chrysoberyl is quite large for the species and is in very good shape with no damage. A prize for any major collector!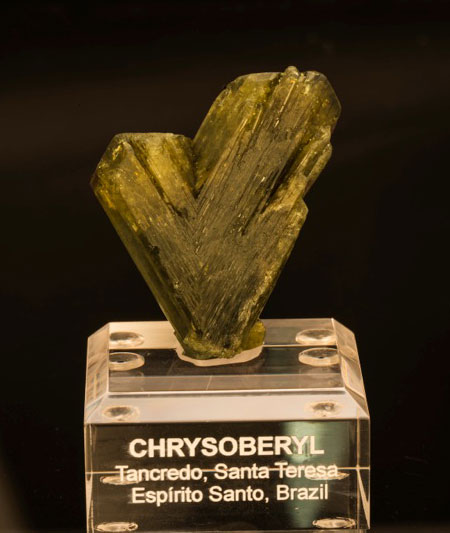 from Tancredo, Santa Teresa, Espíritu Santo, Brazil; 6 cm x 4.4 cm x 2.2 cm. Price available upon request. (Photo: Mia Dixon)
Interested? Contact us to inquire. [back to top]
Excellent Birds: Carvings of the Klein Family of Idar-Oberstein
Pala International has commissioned a new gem carving collection: hummingbirds. Bill Larson explains…
The project came about because of my boys Will and Carl. They asked about the wonderful miniature bird carvings collection we have from Gerhard Becker, from the famous gemstone town of Idar-Oberstein in southwestern Germany. (For an example of Becker's work, see the tail end of this story.) I was able to tell them that the carvings were designed and created by Gerhardt Becker but were carved by the Klein family. We happen to know the Kleins; these days the next generation of Kleins—Stephan and Gabi—are running the show.
Above, the title image of a slide show illustrating the carving process from crystal to lifelike bitty bird. See the slide show here.
We had many parrots and other birds in our collection, but my sons noted that we only had one hummingbird, and these of course are the favorite of most everyone in California. So it was simply a matter of inviting Stephan over for the 2012 Denver show, via California, where he selected many different colors and pieces of tourmaline rough I still had from the Himalaya Mine as well as several aquamarines from Nigeria. We shipped the material to Idar-Oberstein and reviewed several different design ideas—all by the Kleins and slightly modified by our resident bird expert Gamini Ratnavira, the wonderful wildlife artist from Sri Lanka. Our project had started to take life: the creation of several hummingbirds sculptures on rock crystal orchids.
I'm happy to report that after about a year and a half we now have four new and wonderful sculptures that complement, extraordinarily well, the miniature tourmaline bird sculpture collection from 30-plus years before.
All this talk about tiny birds reminds us of the hummingbird inclusion enshrined in Harold Van Pelt's freeform crystal carving, which Pala's Mia Dixon highlighted three years ago this month. [back to top]
Minerals and Mineralogy News
Terra Antiqua: Fire and Water
Farms and ranches and vacant (p)lots have a habit of producing mineral treasures. In 2007, a huge red spinel crystal was stumbled upon in a farmer's field in Mahenge, Tanzania, causing a commotion. In 2009, a two-inch square emerald was plucked from the ground of a North Carolina farm. In 2012, a Sri Lankan farm was rushed by sapphire seekers. That same year, a farming area in Madagascar had its own rush of corundum hunters. This year, an overlooked plot in Burma's jade fields bearing what was thought to be a huge boulder of the green stuff turned out to be a false alarm (at least for now). And our featured mineral specimen for October 2011—a Zimbabwean alexandrite sixling—hailed from Girdlestone Farm. (Don't hit me…)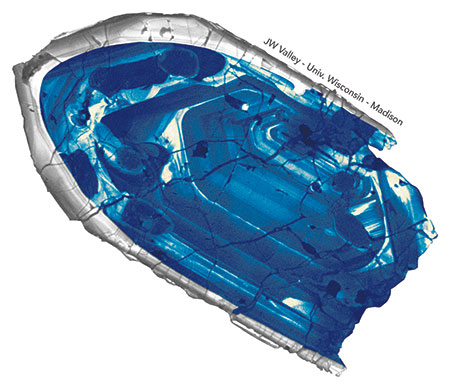 Cathodoluminescence image of a 400-μm zircon. Conventional U-Pb geochronology shows this is the oldest known (4.4 Ga, billion years) concordant zircon from Earth. At nm-scale, the 207Pb/206Pb ratios show that clusters formed by heating and diffusion 1-Ga after crystallization of the zircon (Valley et al. 2014, Nature Geoscience, v 7, p 219–213). Incompatible elements are concentrated in alpha-recoil damaged domains, which form groups of 6-8 clusters due to U- and Th-series decay chains. These first nano-geochronology results rule out Pb-mobility biasing of the Hadean age and confirms chemical homogenization of the silicate Earth before 4.4 Ga. (Image: John Valley, University of Wisconsin)
Now, a Western Australia sheep ranch has yielded what scientists are calling the oldest crystal ever to be verified, placing it at 4.4 billion years old. A zircon crystal collected in the Jack Hills region has been dated due to its "uranium-lead clock," as reported by BBC on February 24. A study of the crystal, led by John W. Valley of the University of Wisconsin, is published in the journal Nature Geoscience (7, 219–223 [2014]; available here).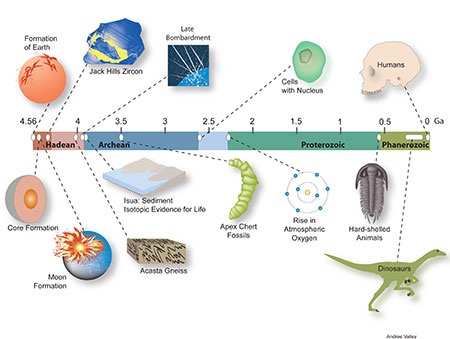 Timeline showing major events in Earth history. (Ga = billion years before present) The zircon's natal date is placed at the end of the Hadean eon, named for the hell-like conditions of the planet at the time. (Illustration: Andrée Valley, University of Wisconsin)
Waterborn [
sic

] diamond leads researchers to… water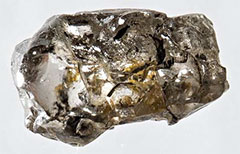 told The Guardian. (Photo: Richard Siemens, University of Alberta)
"It looks like it's been to hell and back," researcher Graham Pearson
A diamond found in river gravels in the farming area of Juína, Mato Grosso, in western Brazil has led scientists to conclude that Earth conceals an "ocean's worth of water" less than 500 miles below its surface, as described in a Slate report March 16. A $20 diamond specimen, found in 2008, was determined to contain an inclusion of ringwoodite, which contains enough water to make researchers led by Graham Pearson (University of Alberta) confirm theories that water—"bound up in rock," as described by Slate—lies between the Earth's upper and lower mantles. The researchers' study is published in the journal Nature (507, 221–224 [13 Mar 2014]). [back to top]
Industry News
A Drought with a Golden Lining
California's record-setting rainfall lows have benefited one group: the state's gold prospectors. According to a February 24 story posted by CBS Los Angeles, the severe drought has exposed gold in waterways, allowing access by prospectors who now, the report says, are bringing along their families to aid in the historic quest.
Mine Causes Move—A Whole Town
Sweden's northernmost town of Kiruna has its own troubles. A nearby iron mine threatens to swallow the town, just as predicted a decade ago by the state-owned mining company, Luossavaara-Kiirunavaara AB, according to a March 5 story by BBC. Twenty thousand people will be moved two miles away over the next twenty years. A church that was voted the country's most beautiful building in 2001 will be dismantled and rebuilt. [back to top]
Pala Presents
Gem- and Lithium-Bearing Pegmatites of the Pala District
Part 4: Descriptions of Selected Mines
With Pala Presents, we offer selections from the library of Pala International's Bill Larson, who will share with us some of the wealth of information in the realm of minerals and mineralogy.
This study of the pegmatites of the Pala district was conducted in the late 1940s by Richard Jahns and Lauren Wright. A total of 39 weeks of field work was done between the two researchers. The project examined more than 350 pegmatite dikes; four of those were mapped, one of which in detail for more than half a mile of its entire exposed length. Sixteen mines were mapped and a hundred more mines and prospects visited and studied. A monumental undertaking.
The fourth and final part of our offering consists of "Descriptions of Selected Mines."
Tourmaline King (Wilke, Schuyler) mine
Tourmaline Queen mine
Gem Star (Loughbaugh) mine
Stewart mine
Mission mine
Pala Chief mine
Katerina (Ashley, Catherina, Katrina) mine
El Molino mine
In addition to several photographs, maps and diagrams, three detailed plates, such as the one pictured above, are provided for the Tourmaline Queen, the Stewart and the Pala Chief mines.
[back to top]
Recycle Bin
Below are recent items from our sibling publication, Palagems Reflective Index, that will be of interest to mineral enthusiasts.
Views on Tucson
In our February gem newsletter, we included some candid camera angles from the 60th Annual Tucson Gem and Mineral Show. See "Black Hats: Tucson in Pictures."
In our March newsletter, we pointed to two other, comprehensive collections of Tucson shutter-shots. As she always does, our friend Eloïse Gaillou, curator of the Natural History Museum of Los Angeles, shares her favorite sights from the gem and mineral shows, and Tucson was no exception. Her posts are divided in two—Mineral Shows and Gem Shows—but there is plenty of crossover. Walk in hungry.
Mineral Shows report. That hat got quite a bit of exposure at this year's shows. (Photo: Eloïse Gaillou)
Pala International's Carl Larson holds a quartz from the Malalu Mountains of Nepal. From the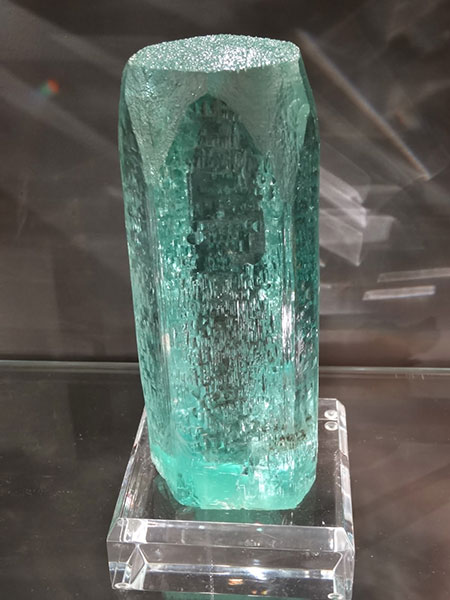 Wayne Thompson shared space with Pala International at TGMS, exhibiting some standouts from his personal collection such as this beautifully etched aquamarine from Medina, Minas Gerais, Brazil. (Photo: Eloïse Gaillou)
We were just informed by Eloïse that the Gem and Mineral Council of the Natural History Museum is offering a tour of Burma in the fall. Details here. [back to top]
Denver Museum Debuts New Hall, Collection Housing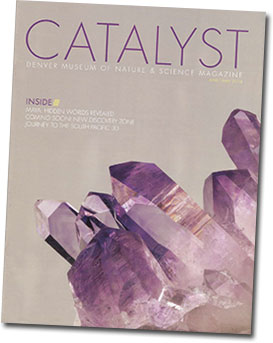 The DMNS magazine features an amethyst from Las Vigas, Veracruz. (Photo: Rick Wicker)
In our February gem newsletter, we noted a Valentine's Day opening at the Denver Museum of Nature and Science. Debuting was the museum's Anschutz Gallery, part of the new 126,000 square foot, five-level, $56.5 million Morgridge Family Exploration Center. In addition to galleries and classrooms, two underground floors—63,000 square feet—are devoted to the Rocky Mountain Science Collections Center, providing consolidated housing for the first time of nearly 1.5 million specimens and artifacts.
Also unveiled were two sculptures in the new wing's Nature Plaza, which is in front of the wing's entrance. Iridescent Cloud, pictured below, is shimmery and light. "The artists' concept was inspired by the Museum's gems and minerals collection, exhibits about the physical properties of light, and Colorado's dramatic sun and sky," according to a press release.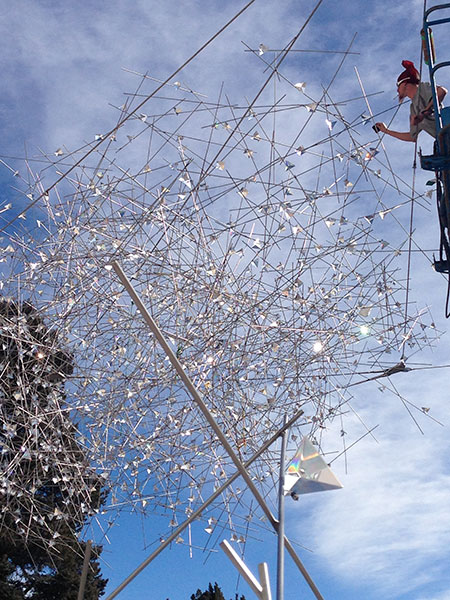 Iridescent Cloud, by Laura Haddad and Tom Drugan. The faceted "crystals" are suspended between three stainless steel columns. Above, a worker cleans from a hydraulic crane last Thursday, as a section in the foreground awaits installation. (Photos: David Hughes, above; Reed Roles, below)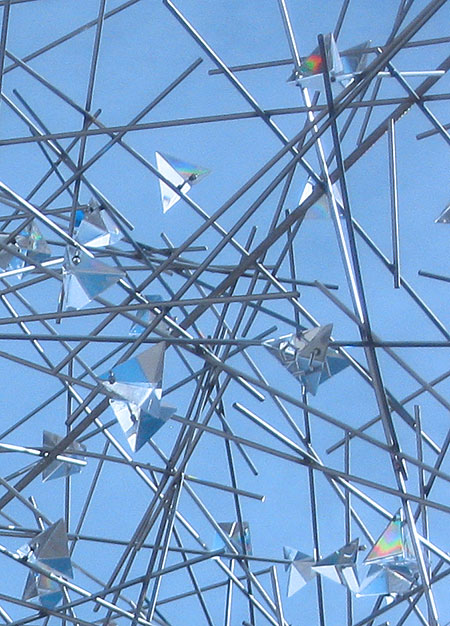 Less successful is the companion installation, Spectral Band, composed of an arc-shaped path of lithocrete pavement in colors of the visible spectrum, i.e., a rainbow, ending with—you guessed it—a pot of (fool's) gold. Whereas Iridescent Cloud transcends the sum of its many parts, Spectral Band is simply dull—a conceptual piece hampered by the limitations of its execution. But then, the pyrite is worth a look.
Spectral Band terminates, shall we say, with a pot o' pyrite. The ashtray sand that encircles it suggests an awkward association. (Photo: David Hughes)
[back to top]
February 2014 Newsletter
Shows and Conferences
Pala International News
Mineral and Mineralogy News
Industry News
Pala Presents
Recycle Bin