John Sinkankas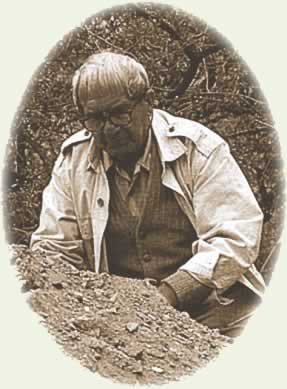 1915–2002
87 Years of Inspiration
For out of olde feldes, as men seith,
Cometh al this newe corn fro yeer to yeer;

And out of olde bokes, in good feith,
Cometh all this newe science that men lere.

Geoffrey Chaucer
ca. 1340–1400, The Parlement of Foules
This celebrates the extraordinary life of John Sinkankas, who passed away on May 17th, 2002 at his San Diego home, after a brief illness.
All of us in the industry are better professionals because of John's words and work. His love of the earth has produced volumes of insight, scientific knowledge and wisdom. So we take time to honor this remarkable individual.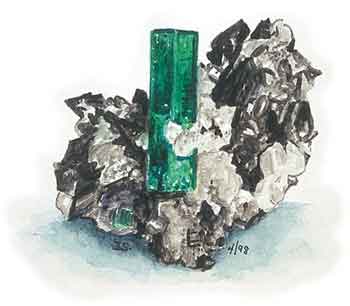 Original watercolor of Colombian emerald specimen by John Sinkankas
Renaissance Man
Born on May 15, 1915 in Patterson, New Jersey, John Sinkankas began his life-long love affair with minerals at age seven in the famous traprock quarries near his home.
After a 25-year career as a flyer with the US Navy, during which he rose to the rank of Captain, he devoted himself to his passion – rocks, minerals and gems. His first book on the subject was published in 1955 and since that time he has published 14 others.
In addition to his writing and flying, John was also a talented artist, with his watercolors featured in a number of his books. Two fine examples of his watercolors are featured in these pages.
The various titles John earned or was honored with over his long career would fill several pages, but a few are worth noting:
1982 – Doctor of Philosophy, Honoris Causia, William Patterson College
1984 – A new phosphate mineral was named sinkankasite in his honor
1985 – Honorary membership in the Rochester (NY) Academy of Sciences
1988 – Awarded the first individual Carnegie Mineralogical Award
Pilot, author, bibliophile, bookbinder, collector, artist, lapidary, historian, scholar – John Sinkankas was the epitome of the Renaissance man.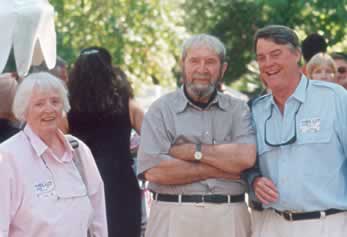 Marge and John Sinkankas, together with William Larson at John's 85th birthday celebration. Photo courtesy of Robert Weldon.

A Family Affair
On February 5, 1940, then Ensign John Sinkankas married his college sweetheart, Marjorie Jane McMichael in Key West, Florida. Thus began one of the most successful partnerships in the field of gems and minerals.
John and his wife, Marjorie, have long shared a love of books. Together, they operated Peri Lithon Books, one of the country's finest dealers in antiquarian books on the earth sciences.
In 1988, their personal collection of over 13,000 items – more than 40 years in the making – was acquired by the Gemological Institute of America and today forms the foundation of the Richard T. Liddicoat Library.
John is survived by his wife, Marjorie, and their four children: John William, Seattle, WA, George Martin, Knoxville, TN, Sharon Jane Tooley, San Diego, and Marjorie Ellen Coates, Atlanta, GA. They have also been graced by six grandchildren.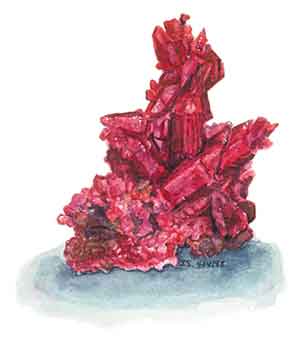 Original watercolor of Vietnamese ruby specimen by John Sinkankas
The Sinkankas Canon
Among the greatest authors in the field, John Sinkankas' name was virtually synonymous with the world of gems and minerals. John penned over 100 articles and fifteen books on the subject. We are pleased to present the following pearls from the Sinkankas canon. Virtually all of these have gone through various printings and editions and each is a classic.
1955 Gem Cutting: A Lapidary's Manual
1959–1997 Gemstones of North America. 3 Vols.
1961 Gemstones and Minerals: How and Where to Find Them
1964 Mineralogy for Amateurs
1968 Van Nostrand's Standard Catalog of Gems
1972 Gemstones & Mineral Data Book
1981 Emerald and Other Beryls
1993 Gemology: An Annotated Bibliography. 2 Vols.
1994 Humboldt's Travels in Siberia: 1837–1842

The above memento is based on one originally produced on the occasion of John Sinkankas' 85th birthday, the celebration of which was held in Fallbrook, CA on 13 May, 2000. A number of people and organizations contributed to that celebration, including the following:
Geo-Literary Society
The many friends of John and Marjorie Sinkankas