Munich 2009
A Report from Will Larson, Pala International
The 46th Mineralientage München international trade fair—Europe's largest for the mineral trade—took place October 30 through November 1, 2009. Pala's Will Larson was there and provides the following report.
Hammering, drilling—the high-pitch construction noises swirl around my ears as showcases and displays are set up. A construction painter colors the INDIEN archway green to match the theme of the exhibit. Set-up was going smoothly Tuesday, the 27th of October. The floors were empty of clients and collectors, an eerie feel to a place normally so crowded. But the cavernous spaces still crawled with a few eager dealers; passions outpoured on as a few people fought over who could see what first. Like the last lollipop in the candy bowl from childhood, years later the same tactics apply!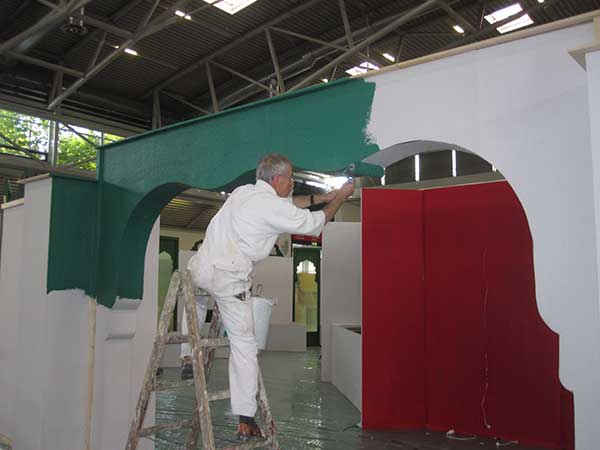 Don't let the green-white-and-red fool you. (Photo: Will Larson)
Early the next morning, on Wednesday the 28th, the show began for the hardcore collector and dealers. Boxes opened quickly and the tables were scanned with eagles' eyes as everyone looked for items they desired. At Jordi Fabre's booth I spotted a few cuprian tourmaline crystals over the shoulder of Herb Obodda. They were beautiful, skinny "pencils" from the famous Paraíba locality. Continuing past Jordi's booth I made my way to Mr. Zheng's booth (aka Goodagooda) as my father [Bill Larson] went in a different direction.
Mr. Zheng proceeded to tease me that I had cost him a lot of money by advising his daughter to attend the Gemological Institute of America—so I wouldn't get any discounts today! I had a good laugh with him, and because he always has some nice things, I decided to have a look. Daniel Trinchillo and Marcus Budil had beaten me to the spot, but luckily there were a few boxes left still unopened! I began to unwrap while chatting with Daniel about the new Chinese yellow calcites that have a intense, wonderful color. My dad rejoined me here and helped me unwrap specimens, and after finishing at Mr. Zheng's booth we moved on to wander the many different dealers.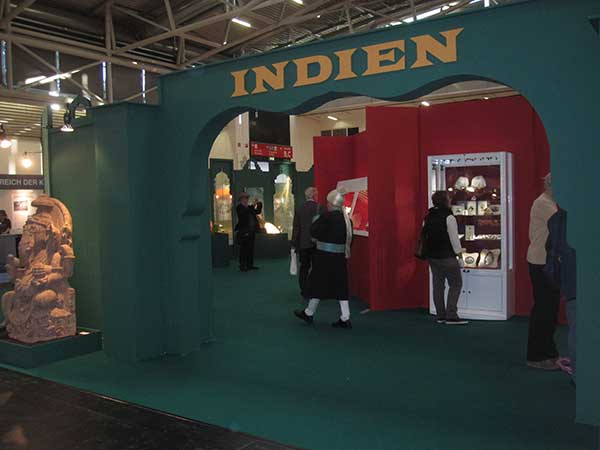 Entrance to the special exhibit, "India's Hidden Natural Treasures." You can just make out the display case (above, center) containing Will Larson's "Apophyllite Tree," pictured below before final installation. From Momin Akhada, Rahuri, Maharashtra; 11 cm.. (Photos: Will Larson)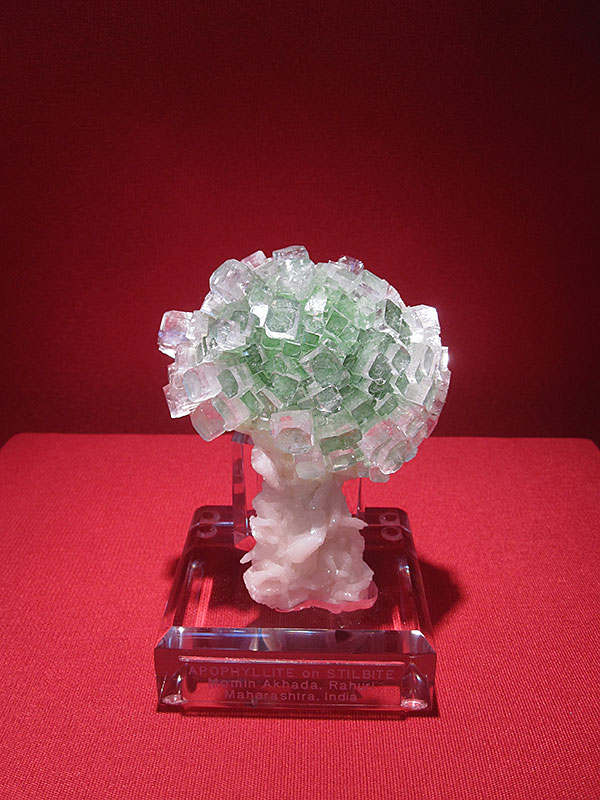 Sections of Afghan, Chinese, and Moroccan dealers outpoured the same types of minerals as we see at almost every show; sometimes I feel a sense of déjà vu. Yet, occasionally one gets lucky and finds a special piece so it's always worth the search. Into the Mineral Pavilion we entered, coming upon Marcus Budil's booth. He had a great display of tanzanites and garnets, demantoids and topazolites, from Madagascar. I scanned these to find what I could before moving across the way to Rob Lavinsky's booth. I found several things I desired and set them aside quickly, including one of the finest Russian rutiles I had seen in many years.
Rushing on I backpedaled to the booth of the Brothers Gobin, Brice and Christophe, who had been treasure hunting in Namibia recently, and had obtained some very nice aqua schorl specimens. After viewing all their aesthetic minerals I decided it was time to discover where to eat at the show. Only a classy European convention would showcase a sausage stand, a cheese stand, and a place to buy wine. As I relish the idea of eating every single different kind of cured sausage, I decide it's probably best if I just go to the eating cafeteria, since it's a bit cheaper and I can get my favorite Weißwurst, pretzel—and a beer, of course, as we know beer and Germany go hand in hand (just like the beer I had in my hand). After eating, it's about time to set up our specimen that was put on display for the Indian exhibit. Working our way to security after a few exchanged words of English, German, and hand signals, slightly lost in translation, we finally made our way to the front of our display case.
Making sure that everything was in order we moved on to check out the halls we hadn't visited earlier in the day. Into B5 and B6 I found some Chinese mineral dealers selling fluorites that were "almost great"—just a little damage. We wandered around without luck in finding much more. Then one last try before deciding that our eyes were sore and our brains tired. Better to head out and enjoy the great beer and pork knuckle at the famous Hofbräuhaus München.
Bugs, Beetles and Butterflies
The Bugs, Beetles and Butterflies display was extraordinary. This is one of the greatest ideas I've seen, along with wine and gemstones in "Flashes of Colour: Legendary Wines and Gemstones," for bringing together two different fields and yet showing similarities in natural beauty. My favorite was, of course, the butterflies that demonstrated similar attributes to their counterparts in the mineral world. Flashy colors on the butterflies' wings matched up so similarly to the mineral specimens that it was almost unreal. I'll let the photos speak a thousand words…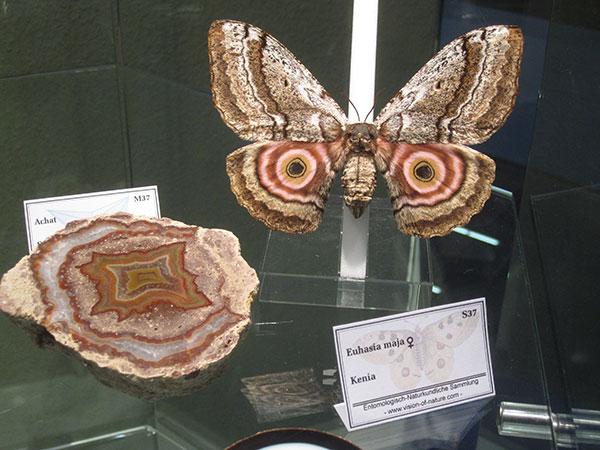 Of course, the mimicry for which butterflies are famous cannot apply here, but it does give one pause for wonder… (Photos: Will Larson)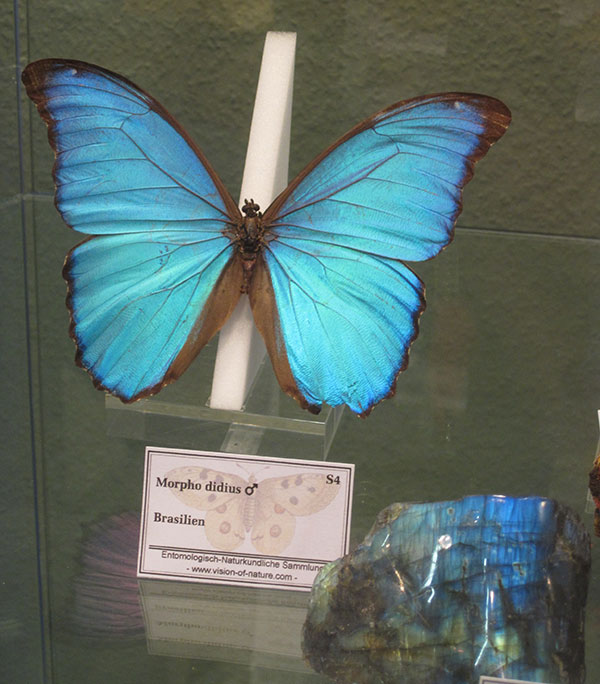 Gemworld
The new gem area, which is called Gemworld, housed a fantastic group of gemstone dealers from Idar-Oberstein, Germany. On display were some of the most beautiful Tanzanian spinels, sparkling sapphires and rubies, the largest tanzanite cut-stone in the world (at 737.81 carats), and also many other beautiful gemstones. My father and I wandered around enjoying the beautiful gemstones sparkling, grabbing our attention left and right. We sat down to chat with Hans Werner Wild and Jürgen Henn to discuss business between our companies and the current state of affairs in the gem world. Watching these three veterans discuss gems was entertaining and educational. Although I'm sure they would rather not be reminded, their experience added up to over 150 years of dealing gemstones.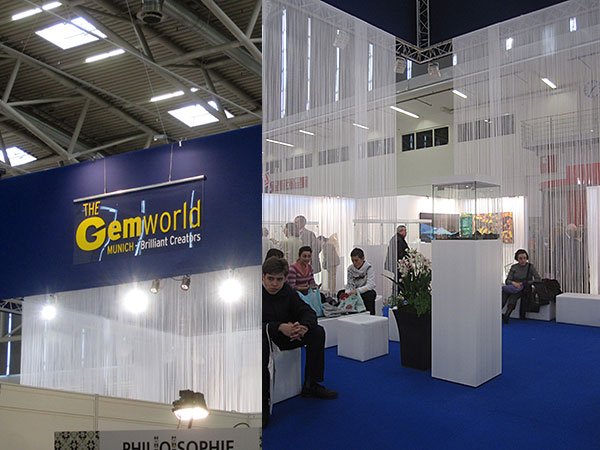 The tanzanite below is large enough to upstage the details of its display. (Photos: Will Larson)
The new area for faceted gemstones featured a Brazilian aquamarine under glass, above.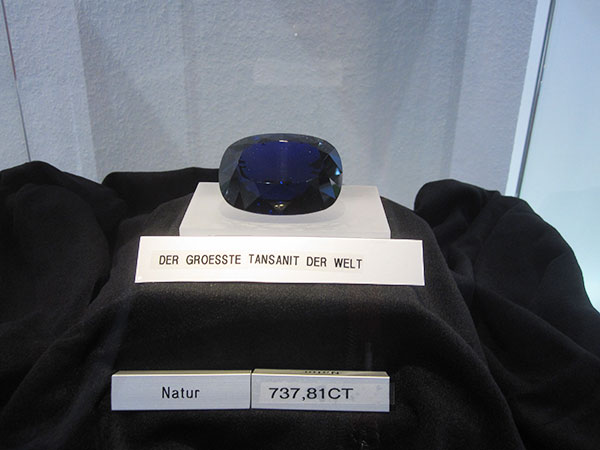 Alpine Exhibit
The Alpine Exhibit displayed some of the largest quartzes from the Alps I had ever seen, some the size of a small human! The fantastic luster these quartzes displayed is typical of the alpine area. From the photographs that they had posted on the wall, you could see the effort and time the miners had put into digging these quartzes out. This was no small operation; it took months, and they were forced to use heavy machinery in a tough, harsh environment where the temperature is well below freezing.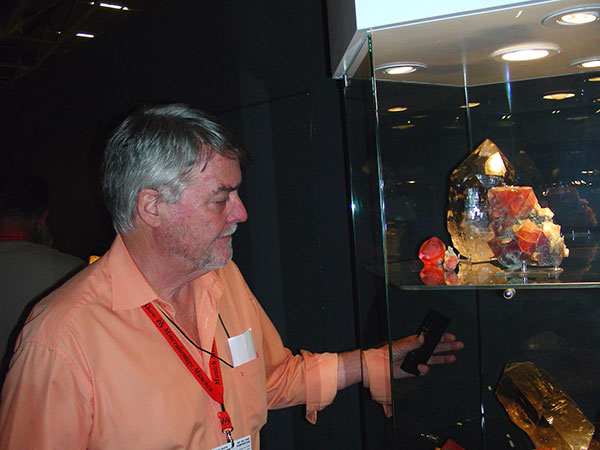 Gene Meieran and Bill in front of a large quartz, also from the the Alpine exhibition. Gene is a "Who's Who" figure not only in the collecting world, but also in the scientific realm—and can celebrate his 60th year of mineral collecting this year. (Photos: Will Larson)
Bill Larson models a Brooks Brothers dress shirt in front of a display of pink fluorites and quartz from the the Alpine exhibition.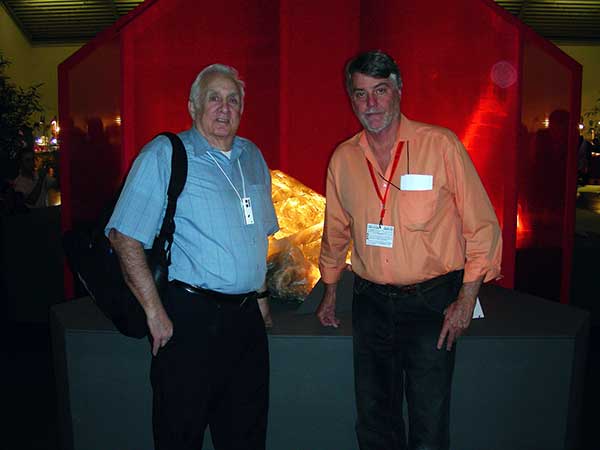 My favorite specimen was the large quartz about several feet high but it also had beautiful little fluorite octahedrons perched all over the top faces. Pink fluorites are a great, classic mineral, and from the classic alpine locality, add that onto a giant quartz and it become a great specimen indeed!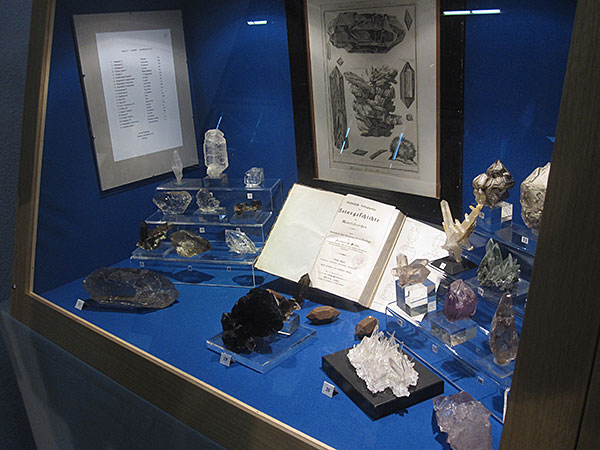 A selection of the Leichtfaßliche Anfangsgründe der Naturgeschichte des Mineralreiches (Treatise on Mineralogy or the Natural History of the Mineral Kingdom). (Photo: Will Larson)
exhibit's smaller specimens. At center is a 1836 edition of Friederich Mohs's
---
We look forward to next year's show.
More photos from 2009: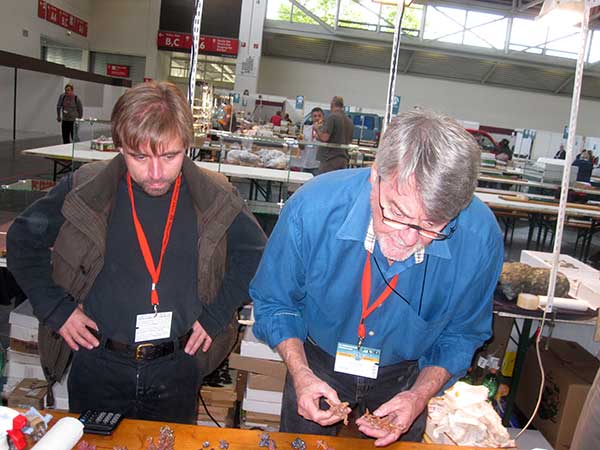 Bill Larson, Hans Werner Wild, and Jürgen Henn push paper. (Photos: Will Larson)
Misha Anosov (Russkie Mineraly: Russian Minerals) and Bill Larson get a head start on some coppers from Siberia.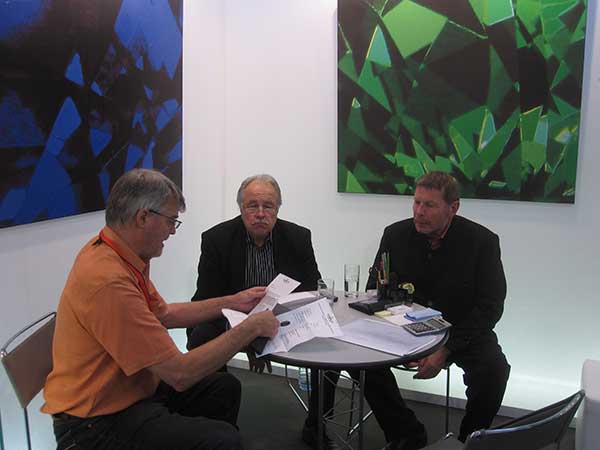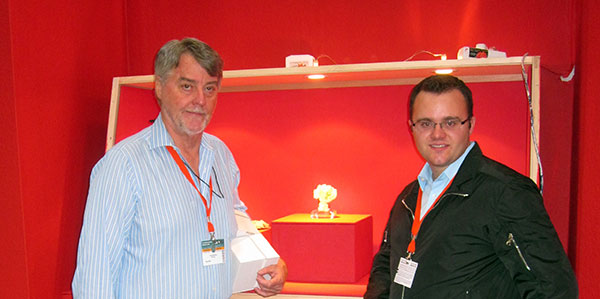 The display unveiled for the trade on October 30. (Photo: Will Larson)
Bill and Will Larson set up the apophyllite specimen.