Report from Sainte-Marie-aux-Mines 2010
By Will Larson, Pala International
• Jump to new photos
VIPs to Consider Berlitz Total Immersion in Taverne du Mineur
Another year in France and this one is just as good as the rest, at least the food and wine, that is! We drive in from Frankfurt, straight to the mineral show and after separating from my father [Bill Larson], we three musketeers, my brother Carl Larson, Mark Kauffman, and myself, stand in front of the Taverne du Mineur on the street of Sainte-Marie strategizing how to get into the show. The people of the show, several minutes earlier barred us from getting in, for God knows what reason, because apparently our VIP badges weren't VIP enough! The two female security guards didn't speak a lick of English and we couldn't speak a lick of French, so as we were lost in translation we waited and abated. My father shows up like a magician from inside the show and manages to get across the name Michelle Shwab, and like magic, they let us in...
on matrix, from Switzerland, offered by the Watzl brothers. (Photo: Will Larson)
Day one at the Sainte-Marie show was quite a busy day. We enter the show and hit up the mineral dealers that are set up. As I walk up the steps into the theater (l'Espace Prestige; see map here), on the right side is Spanish dealer Luis Fernandez Burillo's booth in his usual corner. I peek over to see that Luis is not fully set up but he is opening boxes full of beautiful new fluorites from Peru. These catch my eye, as they have a beautiful purple color and fantastic luster, quite different from anything I've seen before. After setting one aside, I pushed forward wandering inside the theater.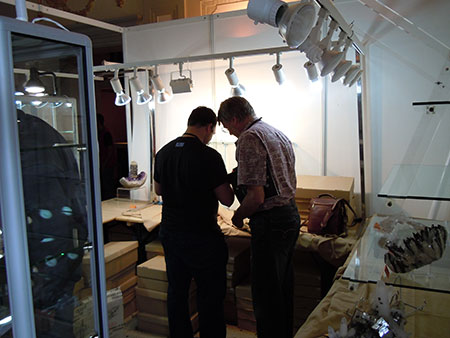 Will and Bill Larson will play. (Photo: Carl Larson)
For a moment I survey my surroundings. Many of the dealers are not set up and there isn't much to see. I decide to take a decisive action and head outside, straight for Gilles Emringer's booth, across from the theater's entrance. His booth is full of beautiful fluorites, previously in his private collection. Ones to note were a bright yellow gemmy fluorite from Germany and a beautiful mint green fluorite from Sweden. Such rarities don't find their way to the market often!
Back in the theater, on the left side this time, Alain Martaud is busy setting up his booth when he pulls us aside to show the most unusual book. Inside the book the first few pages have tests written in handwriting with very beautiful script, but after turning a few pages we notice that there is in fact a small mineral collection and notes on the pieces—a fantastic piece of history!
Carl and Bill Larson (left and front) give Alain and Caroline Martaud a hand, just to make sure everything's in order. Note the lovely parquet floor of the theater—surely one of the more charming venues for a mineral show in the world. (Photo: Will Larson)
Next up I continue, climbing the stairs onto the theater stage where I meet the Watzl brothers. They always have fantastic things with such eloquent aesthetics. One fantastic piece to note is a very beautiful amethyst scepter on matrix from Switzerland! This piece (pictured above) is surely very rare and in perfect condition, making it a really unique piece.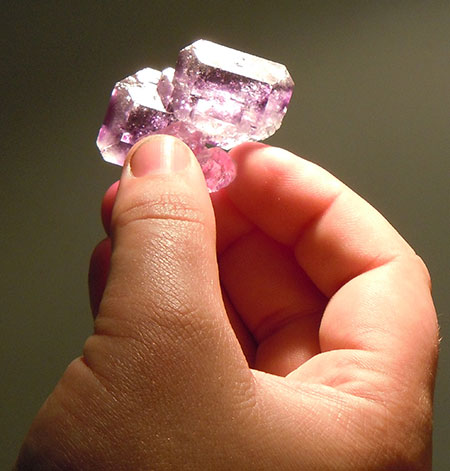 From a new find in Peru. (Photo: Carl Larson)
Continuing on we see many more things, but after outputting such energy on the first day the jet lag begins to kick in and, like slow molasses pouring from a jar, my body begins to revolt against me. Luckily I am not the only one among my party that has been caught by jet lag. Thus we decide to return home, but not before hitting up Super U! We grab a fine chilled Pinot Noir wine that is famous from this area, along with some of the delicious local cheeses and sausages for dinner. Relaxing in the early evening we watch the demise of the French World Cup team to South Africa over our delicacies.
Day two… Our readers can look forward to a full report via another perspective in The Mineralogical Record, November–December issue. The 2011 Euro-Mineral & Euro-Gem at Sainte-Marie-aux-Mines is scheduled for June 23–26.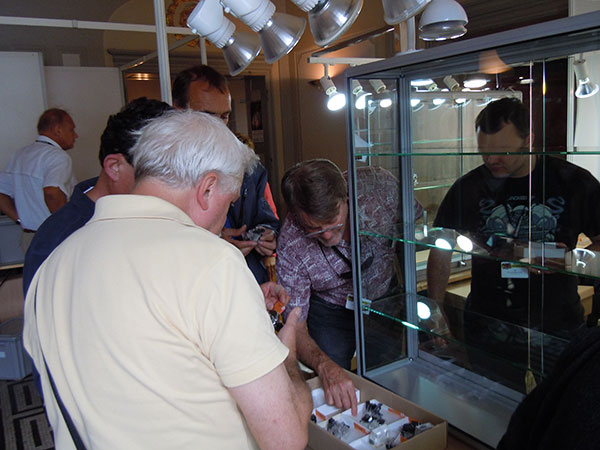 at the booth of Luis Fernandez Burillo. (Photo: Carl Larson)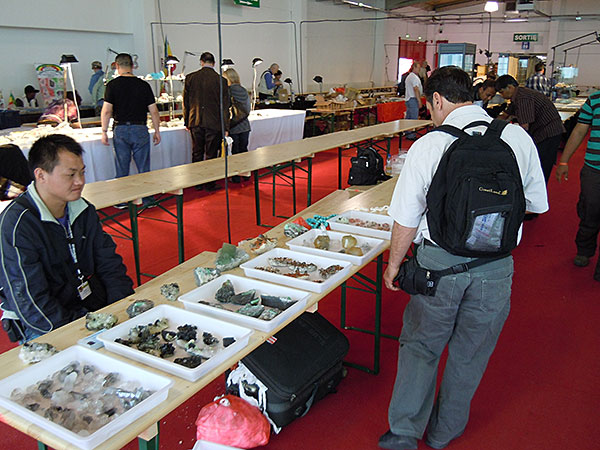 in the Foreign Hall at Sainte-Marie-aux-Mines. (Photo: Carl Larson)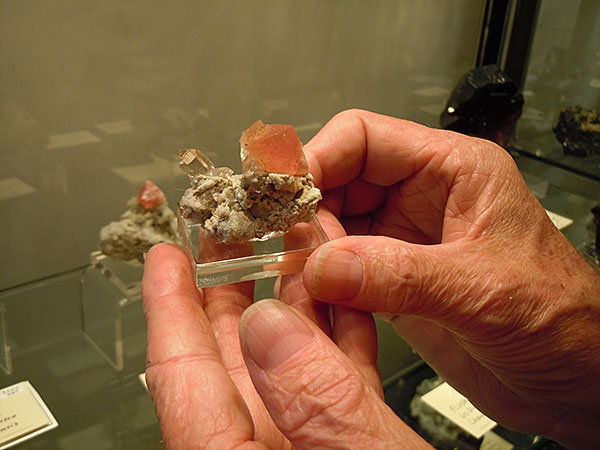 A lovely
displayed at this year's Sainte-Marie-aux-Mines show. (Photo: Carl Larson)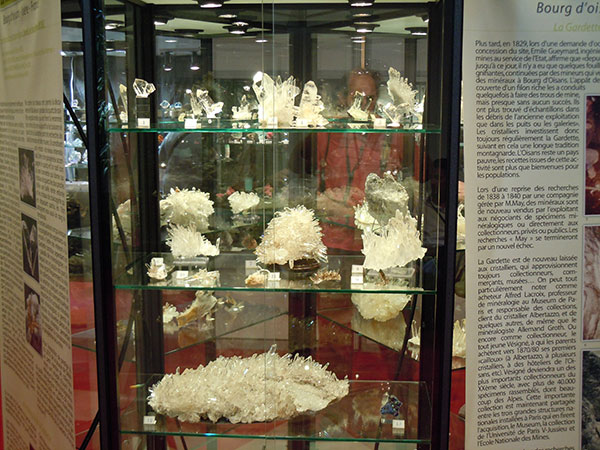 Below, a quartz from the display. (Photos: Carl Larson)
Nice Japan Law twin quartz, below, from France. (Photo: Carl Larson)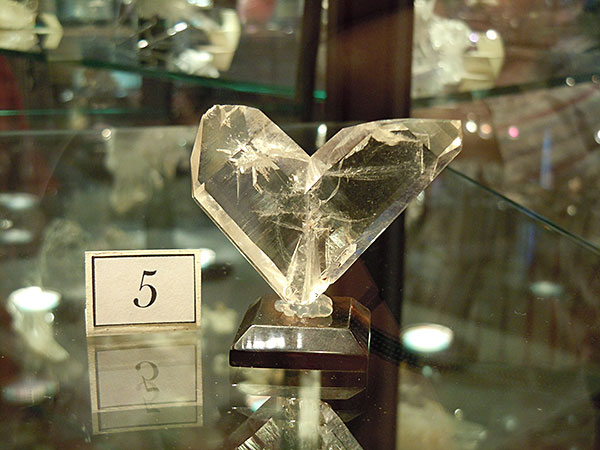 New large fluorite find from Spain, discovered May 10, 2010, at the Viesca mine. (Photos: Carl Larson)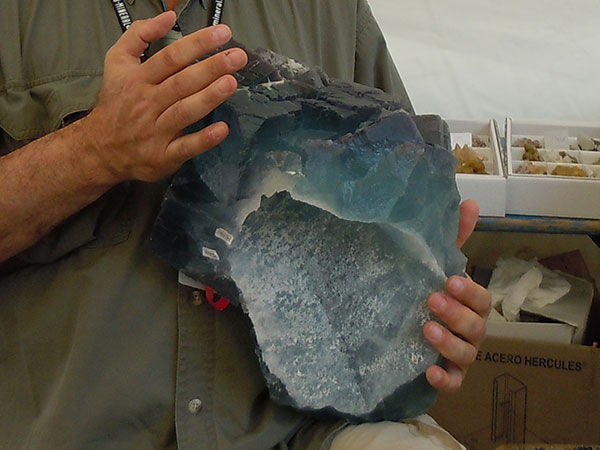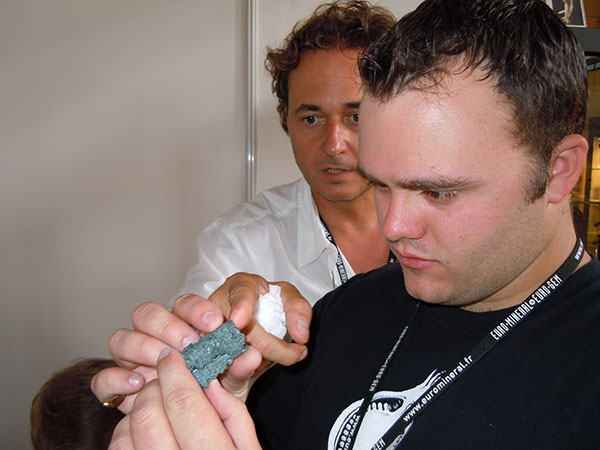 Christoph Gobin and Will Larson viewing a jeremejevite from a new find in Namibia. (Photo: Carl Larson)
See these reports from other years